Create a gorgeous natural look with Colorescience® Everyday Color Palette. Featuring five shades that flatter all skin tones,...
Read More
Create a gorgeous natural look with Colorescience® Everyday Color Palette. Featuring five shades that flatter all skin tones, this collection of rosy pinks and warm browns enhances face, eyes, lips and cheeks with ease. 
Read Less
Join the Waitlist
Get notified when this product is back in stock.
Naturally Beautiful
+ Multi-tasking color palette with 5 neutral shades
+ Designed to enhance face, eyes, lips and cheeks
+ Pure mineral formula
+ Ultra-portable for easy, on-the-go color enhancement
+ Includes an all-purpose brush applicator
---
Shades Provided:
Neutral Apricot
Champagne Shimmer
Universal Blush
Sun Kissed Bronze
Coffee Shimmer
Can Be Used For:
Brightening & Camouflage: Use as eyeshadow base or to correct spots on face.
Highlighter: Apply over blush or as light eye shadow shimmer.
Cheek Color: Pop on apples of cheeks.
Bronzer & Eye Contour: Can use to contour cheeks, darken crease color on the lids or wet for a smoky eye.
Eye Definer: Load brush, spray with setting mist and apply as eyeliner. Apply over Gel Eyeliner for a smoky effect.
Vegan: No
Paraben-free: Yes
Fragrance-free: No
Ingredients:
Mica, Ethylhexyl Hydroxystearate Benzoate, Nylon-12, Zinc Stearate, Ethylhexyl Palmitate, Tocopheryl Acetate, Daucus Carota Sativa (Carrot) Seed Oil, Pearl Powder, Silica, Magnesium Myristate, Glycerin, Lauroyl Lysine, Lycopodium Clavatum Extract, Caprylyl Glycol, Imperata Cylindrica Root Extract, Phenethyl Alcohol, Cananga Odorata Flower Oil, Fusanus Spicatus Wood Oil, Pelargonium Graveolens Flower Oil, Dimethicone, Triethoxycaprylylsilane, Phenoxyethanol, Sodium Dehydroacetate, Potassium Sorbate, Linalool, Benzyl Benzoate, Farnesol, May Contain (+/-): Bismuth Oxychloride (CI 77163), Iron Oxides (CI 77491, CI 77499, CI 77492), Manganese Violet (CI 77742), Titanium Dioxide (CI 77891), Ultramarines (CI 77007), Zinc Oxide (CI 77947)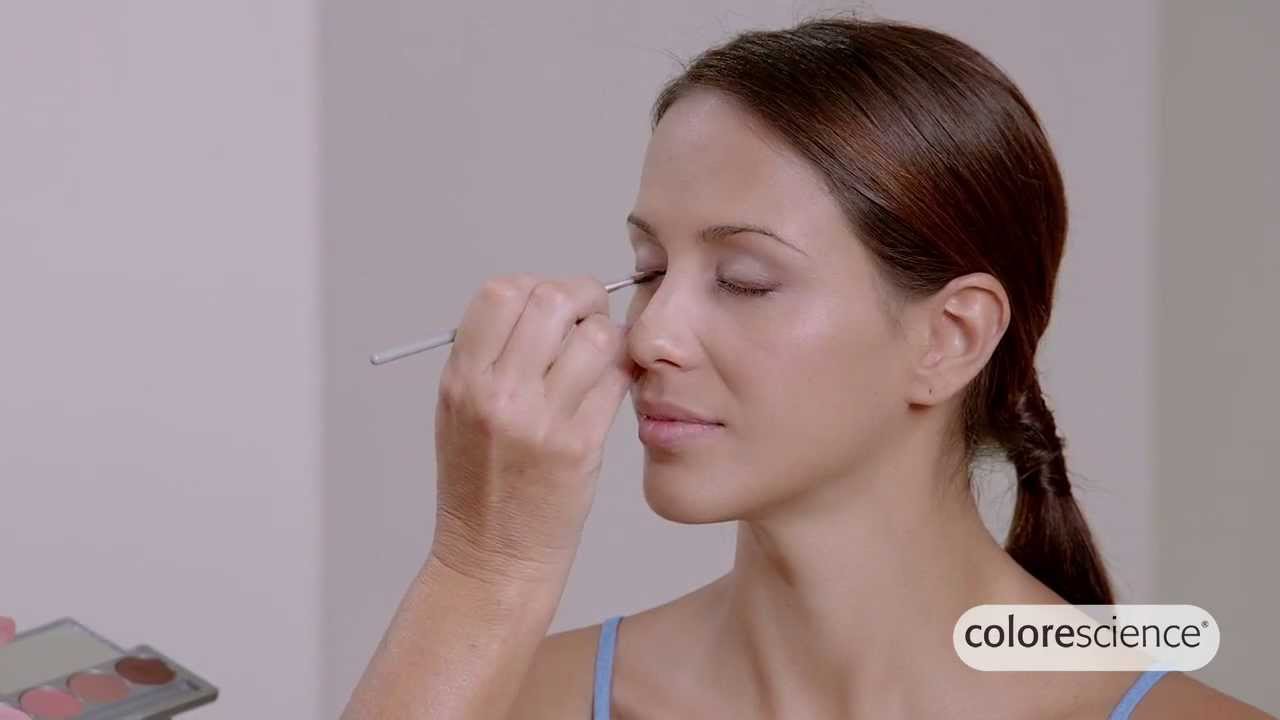 Reviews Acceptance Policy
YOUR OPINION IS IMPORTANT TO US AND TO COLORESCIENCE USERS.
We want customers to get the information they need to make smart buying choices, and we'd love to have your help doing that. As a Colorescience customer, you can submit written reviews. We encourage you to share your opinions, both favorable and unfavorable.
We do not remove reviews because they are critical. However, we do ask that you follow our reviews guidelines below. Reviews not meeting these guidelines may not be approved.
WE MAY EDIT YOUR REVIEW
We may edit reviews for spelling, grammar, or content, while doing our best to maintain the intent of the author. Our content edits are intended to remove claims that may be barred under federal regulations and to clarify inaccuracies (for example, mentioning an incorrect ingredient). We will not change the star rating on reviews.
WHAT'S NOT ALLOWED
While we appreciate your time and comments, we limit customer participation to one review per product and reserve the right to remove reviews that include any of the following:
Reviews by customers who have not purchased from Colorescience.com and/or who have not used the product.
Feedback about the safety of ingredients. (We only use ingredients that we believe to be safe.)
Content that is excessively unclear or obviously inaccurate.
Obscene or distasteful content
Profanity or spiteful remarks
Feedback on your ordering/shipment experience. (Your review should be focused on the product itself.)
Details about availability or alternative ordering and shipping information
If you have safety concerns about the product you are reviewing please discontinue use, talk to your physician, and contact us directly. Make sure to include all information about the details of your use of the product.
If you have a questions or concerns about this reviews policy, please contact us.