Mineral Corrector Palette SPF 20
Imperfections? Blemishes? Dark spots? Camouflage, conceal, protect and brighten with Colorescience® Mineral Corrector Palette. A makeup artist's essential, cast a spell on any imperfection with five skin-neutralizing shades and the confidence of SPF 20 protection.
Join the Waitlist
Get notified when this product is back in stock.
Net Wt. 12 g / 0.42 oz
Non-comedogenic
Correct Imperfections and Restore Confidence.
Complete with five neutralizing shades, Mineral Corrector Palette instantly corrects the look of imperfections while providing SPF 20 defense from UV rays and environmental stressors.
Lightens Red Tones
Ideal for concealing:
Blemishes, Redness, Broken Capillaries
Corrects Red Tones
Ideal for concealing:
Blemishes, Redness, Broken Capillaries
Covers Blue Tones
Ideal for concealing:
Dark Spots, Under Eye Circles, Tattoos, Post-procedure Bruising
Corrects dark blue tones
Ideal for concealing:
Dark Spots, Under Eye Circles, Post-procedure Bruising
Covers yellow & green tones
Ideal for concealing:
Under Eye Circles, Post-procedure Bruising
Specialty Ingredients
Helps create a non-irritating moisture barrier on the surface of the skin for a hydrated and youthful appearance.
An antioxidant that nourishes skin with Omega 3-6-9 and shields from oxidative particles, providing a more rejuvenated and softer complexion.
A powerful antioxidant that helps guard against free radical damage.
Complete with five shades to neutralize red, blue, and yellow tones, Mineral Corrector Palette provides longlasting, natural-looking coverage, plus SPF 20 defense from UV rays and environmental stressors.
+ Five blendable shades seamlessly correct imperfections and enhance your natural beauty
+ Lightweight, breathable and hydrating pressed powder formula melts into the skin, without the heavy layered look of a cream concealer
+ Antioxidant- and vitamin E-enriched formula helps shield against skin-damaging free radicals
+ Chemical-free SPF 20 sunscreen utilizes minerals for UVA/UVB broad spectrum protection
+ Dermatologist tested
+ Non-irritating
+ Paraben-free
+ Water resistant (80 minutes)
Shade one lightens red tones, shade two corrects red tones, shade three corrects blue and covers brown, shade four corrects dark blue and shade five corrects yellow.
Try each shade alone or blend to find best coverage based on your skin tone. For best results, layer over colorescience® Skin Perfector or Foundation with a patting motion to press product onto skin. Continue layering until desired coverage is achieved.
HELPFUL TIP: You can use this versatile palette a million ways: Neutral eye shadow base, correct dark spots, cover blemishes and many, many more! See video for how to use this versatile product!
Vegan: Yes
Paraben-free: Yes
Fragrance-free: No
Active Ingredients:
Titanium Dioxide 21.2%; Zinc Oxide 12.1%
Inactive Ingredients:
Mica, Ethylhexyl Hydroxystearate Benzoate, Tocopheryl Acetate, Daucus Carota Sativa (Carrot) Seed Oil, Glycerin, Methicone, Dimethicone, Triethoxycaprylylsilane, Lycopodium Clavatum Extract, Imperata Cylindrica Root Extract, Lauroyl Lysine, Silica, Pelargonium Graveolens Flower Oil, Cananga Odorata Flower Oil, Fusanus Spicatus Wood Oil, Phenethyl Alcohol, Sodium Dehydroacetate, Caprylyl Glycol, Phenoxyethanol, Potassium Sorbate, Benzyl Benzoate, Farnesol, Linalool, Bismuth Oxychloride (CI 77163), Chromium Oxide Greens (CI 77288), Iron Oxides (CI 77491, CI 77492, CI 77499)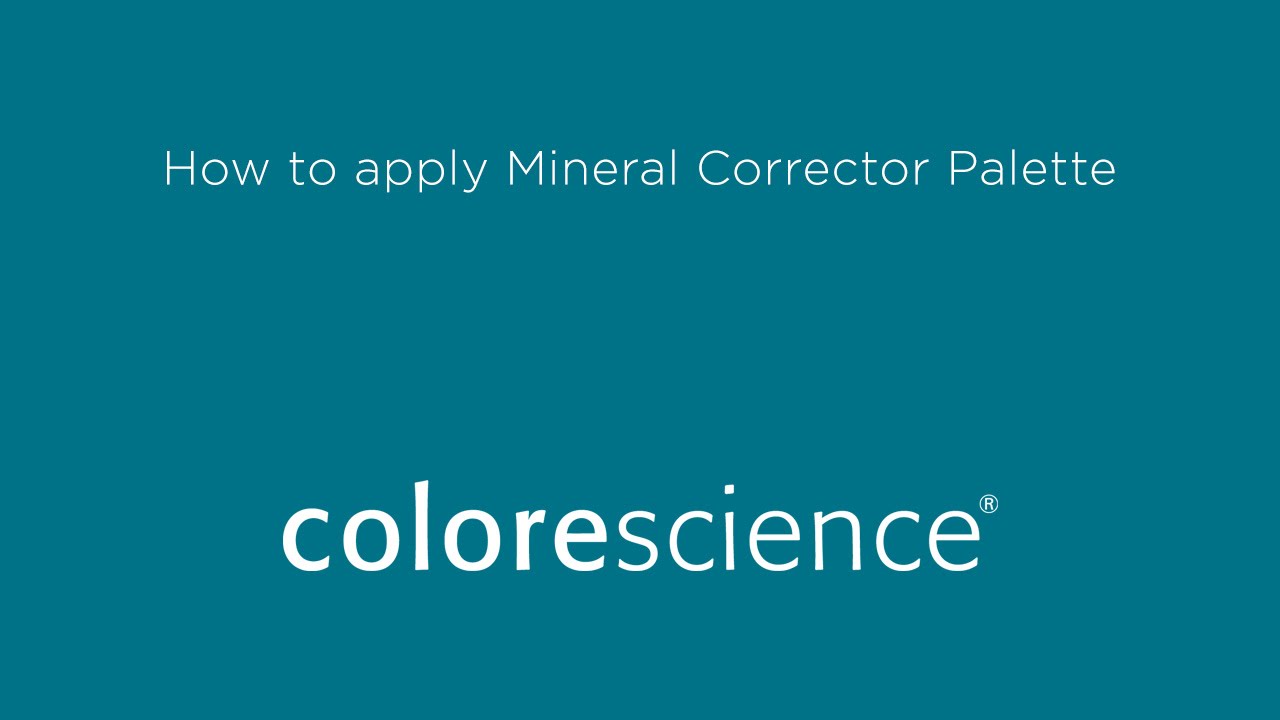 Reviews Acceptance Policy
YOUR OPINION IS IMPORTANT TO US AND TO COLORESCIENCE USERS.
We want customers to get the information they need to make smart buying choices, and we'd love to have your help doing that. As a Colorescience customer, you can submit written reviews. We encourage you to share your opinions, both favorable and unfavorable.
We do not remove reviews because they are critical. However, we do ask that you follow our reviews guidelines below. Reviews not meeting these guidelines may not be approved.
WE MAY EDIT YOUR REVIEW
We may edit reviews for spelling, grammar, or content, while doing our best to maintain the intent of the author. Our content edits are intended to remove claims that may be barred under federal regulations and to clarify inaccuracies (for example, mentioning an incorrect ingredient). We will not change the star rating on reviews.
WHAT'S NOT ALLOWED
While we appreciate your time and comments, we limit customer participation to one review per product and reserve the right to remove reviews that include any of the following:
Reviews by customers who have not purchased from Colorescience.com and/or who have not used the product.
Feedback about the safety of ingredients. (We only use ingredients that we believe to be safe.)
Content that is excessively unclear or obviously inaccurate.
Obscene or distasteful content
Profanity or spiteful remarks
Feedback on your ordering/shipment experience. (Your review should be focused on the product itself.)
Details about availability or alternative ordering and shipping information
If you have safety concerns about the product you are reviewing please discontinue use, talk to your physician, and contact us directly. Make sure to include all information about the details of your use of the product.
If you have a questions or concerns about this reviews policy, please contact us.