Sunforgettable® Brushes
Powdered mineral SPF brushes made with advanced antioxidants, hyaluronic acid, and EnviroScreen® Technology for skin that's protected and perfected.
Free Shipping on orders $75+
Free Returns so easy
Free Samples with every order
The Originals
These classic Sunforgettable® brushes feature natural-looking coverage. Choose our original Brush-On Shield SPF 50 for a subtle tint to match your skin tone or Sheer Matte SPF 30 for translucent coverage with additional oil control.
award winner
Available in 4 shades
$69.00
FAIR
Usually burns, Tans minimally
MEDIUM
Sometimes burns, Tans uniformly
TAN
Rarely burns, Always tans well
DEEP
Never burns, Tans very easily
0
0
0
0
0
The Illuminators
Looking for a subtle luminosity or radiant contour? We've got both. Pair with a base layer of any Face Shield SPF 50 or original Brush-On Shield SPF 50 then customize your look with a pearlescent Glow or sun-kissed Bronze.
award winner
0
The Best Value
Stock up on your preferred shade or share with the family with our Multipack. Either way, get 3 Sunforgettable® brushes for the price of 2!
Buy 2, Get 1 Free
Available in 4 shades
$138.00 ( $207 value)
FAIR
Usually burns, Tans minimally
MEDIUM
Sometimes burns, Tans uniformly
TAN
Rarely burns, Always tans well
DEEP
Never burns, Tans very easily
0
0
0
0
you pick any 3
$165.00 (up to $207 value)
0
HOW TO ACTIVATE YOUR
SUNFORGETTABLE® TOTAL PROTECTION™
BRUSH-ON SHIELD SPF50
POP
open the cap.
PUSH
plastic sleeve down.
PULL
off rubber band and pull sleeve up again.
CAP
the top back on.
TAP
3-5 times on a hard surface with cap side down. Put some power behind those taps! Repeat as needed.
FLICK + APPLY
open brush again, pull down sleeve, flick bristles to ensure powder is flowing, and apply!
TAP, FLICK + APPLY!
Before each use, tap the brush with cap side down a few times, then flick the bristles with your finger to see the powder is flowing. Use small circular motions to sweep the brush onto dry bare skin, moisturized skin, or over makeup. Apply generously on face for at least 60 seconds while making multiple passes. Don't forget about your ears, neck and other areas! Reload more powder into bristles by giving the brush a good shake with bristles facing downwards, or recap, tap, and flick as necessary during application.
featured NBC new york live, the solution to reapply spf over makeup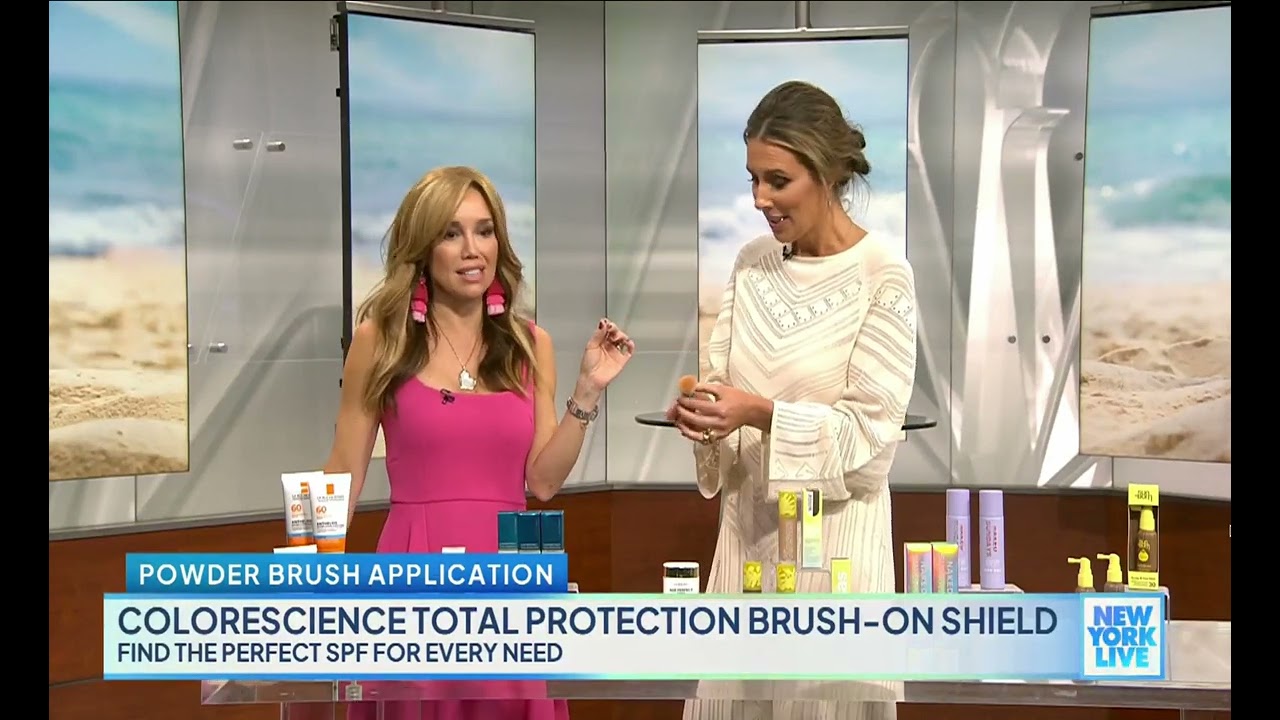 APPLY & REAPPLY… ALL-DAY PROTECTION, ON-THE-GO.
Complete your skincare regimen with Colorescience Sunforgettable™ brushes. Always 100% all-mineral sunscreen and perfect for all skin types. Wear alone, or mix and match to customize your look - you'll be protected and perfected, always. All Colorescience Sunforgettable™ brushes are recommended by the Skin Cancer Foundation as effective broad spectrum sunscreens.
So, what's your SPF style?
Know better skin.
Tips to get the most out of your Brush-On Shield.
1.

Apply as your last layer of protection in the morning (it works great over makeup!) and reapply at least every 2 hours throughout the day for continued protection.

2.

Be sure to check that the cap on the bottom of your brush is screwed on tightly to prevent powder from spilling out. It may come loose with normal use.

3.

Taking your brush to the beach? Apply and reapply to completely dry skin, as contact with water can cause the brush to clog.
OVERPROTECTION IS AN UNDERSTATEMENT.
This 100% all-mineral formula features EnviroScreen® Technology to go way beyond UV and provide unmatched protection against sun and pollution, so you're shielded from:
UVA/UVB
Provides Broad Spectrum SPF 50/PA+++
POLLUTION
Provides protection from pollution exposure
BLUE (HEV) LIGHT
Provides protection against blue light
INFRARED RADIATION
Helps minimize damage caused by infrared radiation
Which sunscreen brush is right for me?
SPF 50 Brush-on Shield and Sheer Matte SPF 30 Sunscreen Brush both feature EnviroScreen® Technology, and antimicrobial bristles are noncomedogenic. But each brush offers other specific benefits—click through below to find out what's right for you.
SKIN TYPE
SKIN CONCERN
SHADES
COVERAGE
WATER RESISTANCE
My skin is primarily
Dry-to-Normal:
Brush-on Shield SPF 50 Oily, blemish-prone, sensitive:
Sheer Matte SPF 30
I want to address:
Dryness, premature aging:
Brush-on Shield SPF 50 Oil-control, shine, acne:
Sheer Matte SPF 30
Available Shades:
Brush-on Shield SPF 50:
4 – Fair, Medium, Tan, Deep Sheer Matte SPF 30:
1 – Untinted
Application + Coverage:
Brush-on Shield SPF 50:
Lightweight, natural-looking color Sheer Matte SPF 30:
Featherweight, sheer
Sweat + Resistance:
Brush-on Shield SPF 50:
80 minutes Sheer Matte SPF 30:
40 minutes
POWERFUL PROTECTION, IN A CONVENIENT, ON-THE-GO FORMULA.
Carefully-selected specialty ingredients nourish skin and protect against harmful aggressors.
Most commonly used as cosmetic colorants, these micronized pigments also help protect skin from damage and photoaging caused by blue (HEV) light.
Provides defense against pollution and free radical formation.
Sodium hyaluronate is a powerful humectant naturally occurring in plants and the human body which helps to restore and reinforce moisture in the skin and defend against the signs of aging.
This combination of tara tannins (a powerful antioxidant) and organic sunflower sprouts helps to protect skin against the aging effects of infrared radiation (IR).