Tinted Sunscreen
Daily UV Protector SPF 30 Whipped Mineral Sunscreen
Perfect protection from UV rays and environmental stressors with Colorescience® Daily UV Protector™. Blur imperfections with this non-greasy, lightweight formula—whipped for your routine.
1 fl. oz. / 30 ml
Broad Spectrum SPF 30 Sunscreen
90-day supply based on typical use
Water resistant (40 minutes)
FEATURES
All-physical, UVA/UVB mineral sun protection
Infused with antioxidants
Non-greasy, non-whitening tinted formula
Whipped smooth texture
40 minutes water resistant
BENEFITS
Mineral sun protection helps prevent signs of premature aging
Antioxidants help guard against free radical damage and environmental aggressors
Universal tint evens the look of most skin types
Gentle enough for the most sensitive skin
Vital-ET helps guard against free radical damage and relieve skin from UV-induced redness
Apply 1/2 pump over face ensuring even coverage. Use alone as your first layer of sun protection or after your daily skincare routine. Apply liberally 15 minutes before sun exposure; Reapply after 40 minutes of swimming, sweating, immediately after towel drying, and at least every two hours. Children under 6 months of age, ask a doctor.
Sun Protection Measures: Spending time in the sun increases your risk of skin cancer and early skin aging. To decrease this risk, regularly use a sunscreen with a Broad-Spectrum SPF value of 15 or higher and other sun protection measures including: Limit time in the sun, from 10 am - 2 pm and wear long-sleeved shirts, pants, hats, and sunglasses.
WARNING: For external use only. When using this product, keep out of eyes. Rinse with water to remove. If any adverse reaction occurs, stop using the product. Inform your doctor if your condition persists. Stop use and ask a doctor if rash or irritation occurs. Keep out of reach of children. If swallowed, get medical help or contact a Poison Control Center right away.
Vegan: Yes
Paraben-free: Yes
Unscented: No
Active Ingredients:
Titanium Dioxide 5.4%; Zinc Oxide 5.4%
Inactive Ingredients:
Cyclopentasiloxane, Caprylic/Capric Triglyceride, Dimethicone Crosspolymer, Glycerin, Water, Dimethicone/Vinyl Dimethicone Crosspolymer, Spirulina Maxima Extract, Camellia Sinensis Leaf Extract, Opuntia Ficus-Indica Stem Extract, Palmaria Palmata Extract, Disodium Lauriminodipropionate Tocopheryl Phosphates, Citrus Paradisi (Grapefruit) Seed Extract, Ascorbic Acid, Dimethiconol, Vanilla Planifolia Fruit Extract, Fusanus Spicatus Wood Oil, Dimethicone, Triethoxycaprylylsilane, Benzoic Acid, Dehydroacetic Acid, Phenoxyethanol, Farnesol, Iron Oxides (CI 77491, CI 77492, CI 77499)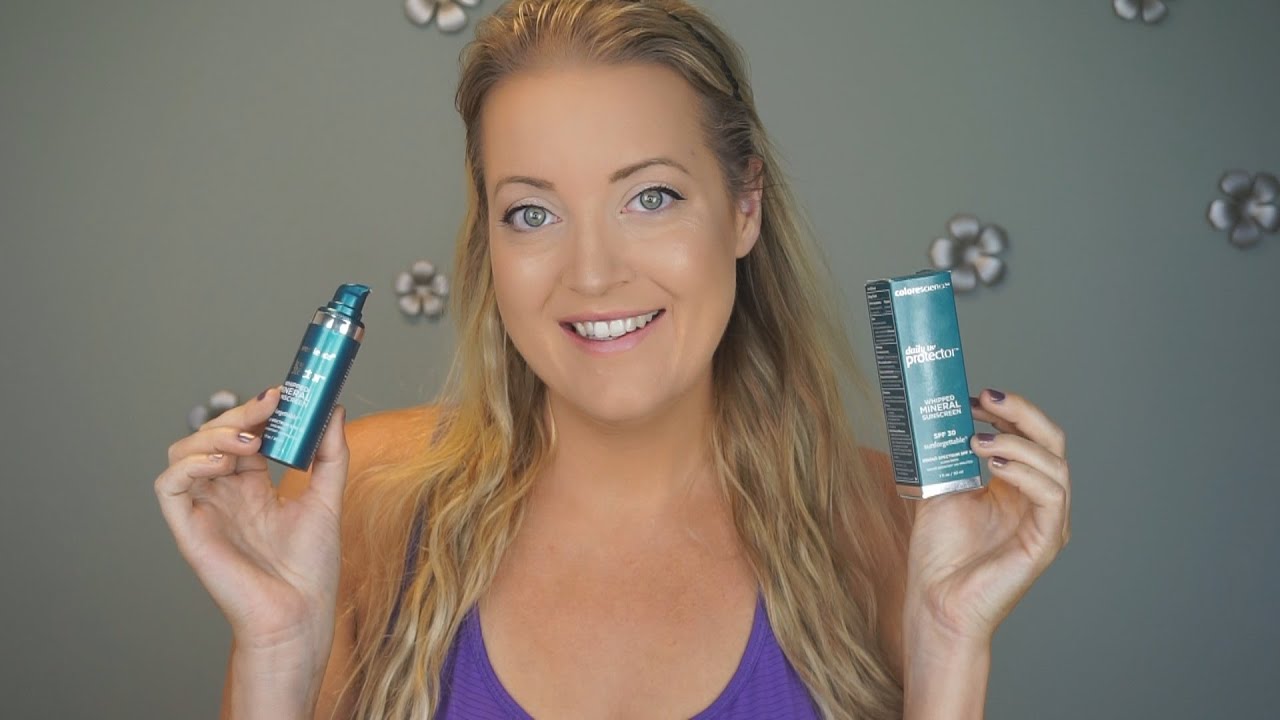 Customer Reviews
Love it!

Very creamy sunblock. Blends well with the skin. Feels weightless.

Great protection

Light weight, very smooth and non greasy! Another great addition.

Very Impressive

I like the feel of the product on my face, it helps to smooth out my skin.

Love this sunscreen

Goes on without leaving my skin greasy and that's the main reason I love it. Highly recommended!

Many compliments on my face skin - used it daily for years!

I use this daily on its own or by mixing it with the bronzing perfector for better hyperpigmentation cover up. It give me a very smooth, natural look. Love it.

Good for Everyday Use

I think this is a good everyday sunscreen to use if you want some light coverage. It has a somewhat strong smell which I actually like, but some might find it off putting. To me, it's somewhat reminiscent of chlorine in a pool. However, it's easy to spread and covers up some redness.

I love this product

Please don't ever discontinue this product. It delivers on providing protection without the oil. It goes on smoothly and absorbs into skin easily.

Soft feel

I liked the way this sunscreen went on, my skin felt very soft and it gave good coverage!

I am in love with this product

I don't go anywhere without putting on this sunscreen, it is light and has no scent. I feel confident that it is protecting my skin!

Excellent non greasy protection!

Love using this under makeup or even on it's own for great protection that is never greasy!

Works well for my PMLE

This works well for me with my PMLE. I really like a more "dewey" look on my makeup so I wear this with a little BB cream and I'm good! I sweep some of the brush-on shield throughout the day for spf touchups. I don't get the dewey look with the brush-on but love this whipped miracle cream!

This product is the best

I have been using this product for six months and I must say I love absolutely love it. Goes on smoothly. I wish it was available as a SPF 50!

Creamy protection

This is a creamy, perfect start to your SPF routine. It is the perfect non-greasy way to start protecting your face from sun damage.

Tinted Sunscreen

Nice tinted sunscreen for when you don't want to wear makeup but want a little bit of tint and to protect your face from the sun.

Perfect whipped mousse texture and great coverage

I like to use this product in colder months instead of/prior to the powder products. Just a little goes a long way. I love the texture, color, hydrating feel, concealing, and SPF. Great product that lasts a long time.

My Go-To Product

I never leave home without it! Love the whipped consistency, it's easy to smooth on and doesn't feel heavy and greasy, unlike other facial sunscreens.

I love this sunscreen

This is a great sunscreen and with the color tint it applies easily over make up for reapplication.

Even better than my long time favorite Tint Du Soleil

I have been using Tint Du Soleil for years and I had not expected to make a change. However in my year end order I received a special bonus product, the Whipped Mineral Sunscreen. When I got low on Tint, I tried it out and was surprised that I liked it better. It goes on smoothly and covers well. Since I live in Arizona, I use it with the Brush On Shield SPF 50. It is a great combination.

I believe in this product

I use this sunscreen everyday and it is lightweight with no smell.

Love this product!

After a bit of a learning curve, I'm in love with this product! I only use half of a pump and blend with my fingers. I follow this by using the eye renewal therapy and the results are a fantastic natural look. I set with the powder, apply any other make up I'm in the mood for and I'm good the whole day. Please don't ever discontinue this!!

DAILY UV PROTECTOR SPF 30 WHIPPED MINERAL SUNSCREEN

Love it! Not heavy, greasy or sticky. Love the natural look, I wear it with a primer since my face is oily. Looks great!

Great product

I have been using this product for four months and it is really good. Gives you a smooth finish and I am confident with the sun protection it offers.

Great With Oily Skin

I don't like to look or feel like I'm wearing a ton of makeup, so finding a good sunscreen and foundation that work well together on my oily skin has been pretty tricky. I finally found something that works in this product!! I was worried at first that it was too thick, but as soon as I touch it to my face it goes on very smoothly and blends right into my skin. It has just enough tint to even out my skin tone, but it's very light and sheer. Because I have oily skin, I can't wear it alone, so I usually top it with a mattifying primer and a dusting of pressed powder. It also works well with some foundation mixed into it for a more polished look. This does have a slight cocoa-buttery scent to it but I can't smell it once it's on my face, and believe me I can't stand to smell my makeup or hair products all day.

Smooth finish

If you are looking for non-greasy sunscreen that leaves a smooth natural light finish, this is for you. If you are hoping to use this as a heavy foundation, you will be disappointed and have streaking issues because I don't think this was intended to provide heavy coverage, and doesn't blend well if you use too much. Wore this plus their under eye concealer and Sunforgettable powder to a wedding and it did not crease or wear off for the all day festivities. I also didn't get burned unlike my husband. Love it!

For The Meghan Markle-Type Of Black Woman

Was excited when I was told about this sunscreen and eagerly bought it. HUGE MISTAKE!! There is a significant cast. There are many shades of Black, Asian and Hispanic skin tones and you should offer a wider variety than you currently do. My search for sunscreens for women of color continues.

Excellent

Really compact and handy for on the go! Goes on smoothand silky.

Daily UV protection

Daily UV protection! Love the product!!

I like it but doesn't rub in well

This sunscreen hides blemishes but it takes a lot of effort to rub in. I will still purchase because the pros outweigh the cons.

Heavy

Feels like I have a face mask on. The Brush-On Sunscreen is preferable.

I Prefer The Sunforgettable SPF 50

I find the Daily UV Protector SPF 30 to have an odd scent and texture on my skin. The SPF 50 Total Protection blends into my skin completely and leaves no scent at all. The SPF 30 whipped sunscreen seems to sit on top of my skin and doesn't not blend in as well. The scent is a little off putting throughout the day. I am constantly aware that it is on my skin. Not my favorite.

Disappointed - doesn't rub in well

I love a lot of Colorescience's other products, but this one is a bomb. Doesn't go on smoothly or rub in well. Very streaky. Will not buy again or recommend to others.

Super Sunscreen

I recently ordered this for the first time. I love it already. It is very thick but it blends into my face easily. It doesn't ball up when I put foundation over it. The best part is that there is no white cast like there usually is with mineral sunscreen. I can wear this alone or before foundation. Either way, my skin is protected and looks better.

Nice product!!!

I like that this has some tint to it. I also use this as a primer when I need my powder foundation in the winter. I use it alone in the summer when I have a tan just for the protection and a simple makeup look.

I like it!

I use it like foundation and I love it! It's creamy and provides SPF 30. Try it and you will love it too!

Very smooth

Love how this feels on my face.

Great product

Gives coverage and protection

Nice Protection

Easy to use, goes on great and feels good too! I have been using this product for several years since it was recommended by my Dermatologist. Since using it faithfully for skin protection, I have been blessed with good reports.

Great Protection

Have been using this product for years. It is so nice and easy to apply. It feels like velvet! Bought this product for prevention of basal cell carcinoma, which I had on my cheeks years ago. To date, I have had no issues. Great protection.

Wonderful

I use this one and Natural Finish Pressed Foundation SPF 20 every single day. I just love them!!!

Love this product!

I'm retired and sometimes just go out to walk my two dogs. I also have a large flower garden. I put this on and it's a sunscreen as well as gives a great makeup look because of the tint. I always use this.

I just love it

If you haven't tried it, just do it. You will be in love with this product. It's easy to apply and looks nice and natural, plus you're protected.

Wonderful ⭐️ ⭐️ ⭐️ ⭐️ ⭐️

I have sensitive skin with a little redness in areas and use retin A. I use Daily UV Protector Whipped Mineral Sunscreen because it's non-irritating, fragrance-free, evens out my complexion, and provides SPF 30.

Love It!

This is nice and not too heavy. I alternate this and the tint du soleil. Good job Colorescience!

Love it!

This product provides great sun protection yet goes on very light with a soft feel.

Wonderful Product

With a good skin care regimen, this has replaced my foundation. I am a red hair and fair and its perfect weight for my complexion.

Nice sunscreen

This tinted sunscreen has a wonderful thick consistency. I use it as a primer under my makeup or alone.

Moisturize Well Before Application

The consistency is great, and it adds a touch of color. However, on areas of my skin that were dry, it caked up and flaked. So just make sure your skin is well-hydrated and you'll be happy.

Tint du soleil

Great colors

sunforgettable brush

amazing

Amazing

Feels so good on my skin, and looks like I have nothing on, just perfect skin. It's not greasy. When I use the powder with it, I notice the powder settles in my lines after a few hours.

Wonderfully Whipped

I love the smooth feel and smooth finish. Face feels soft and ready for foundation.

The best whipped and hydrating mineral sunscreen!

This is the best whipped mineral sunscreen out there! It's very hydrating and looks great on my face.

Wonderful product

Received this as part of a gift. Love this product, it blends well and my skin is protected while looking great

It's Whipped!

I tried this product today instead of the my usual sunscreen and I must admit, I'm sold on it. It has a wonderful texture and a soft scent. It goes on like velvet. I loved the way my skin felt after application.

Sun kisses

I love this product!!! Creamy, soft, sun kissed....

Love this protector

This product actual smooths into the skin with a matt finish with a blurred almost airbrushed result. It is not a heavy coverage but is a nice natural enhancement that also protects with SPF.

Even coverage

This product has great coverage and feels light once on. I love how it has SPF 30 so I know I am protecting my skin every day.

Best sunscreen so far!

My skin is normal to oily, plus I have a few dark spots. It's not easy to find sunscreen that would meet all your needs. This one works perfect for me. Easy to apply, it just glides on your skin, no smell, light texture that melts into your skin. No shine after a few hours. Plus it's all mineral, no any chemicals added. So happy I found it.

Great Product

Perfect for my skin and it's protection.

Creamy and efficient

Easy to apply and creates a smooth base before makeup. The Colorescience products are always trustworthy to keep you from getting burnt even when sweating and swimming.

Love

Perfect match for my skin! I love the whipped texture--light and smooth.

Amazing

Goes on so smoothly!

Interesting

I used this on my face to cover bruises everyday for a week. I love the texture. It feels velvety, like skin. But if I put too much on, the product starts to crumble on my face. So I used a smaller amount to reduce crumbling. But my skin color is fair and, unfortunately, this color is too dark for my skin. There was a noticeable difference at my jawline. I wish it was available in different colors.

Creamy

I love the creamy feel of this! For me, it also provides a lot of coverage! I can wear alone or with other face products such as powders and concealers. I have been reaching for this product more and more! Great price point too!

Love it!

Love this stuff! Goes on so smooth, enhances the natural look of my skin without looking cakey or feeling heavy or greasy. No more sun burns since discovering this product! Good stuff!!

Smooth

Goes on smooth. Not oily or tacky feeling

Great for face and body!

Love this sunscreen. Feels and looks great on my skin!

One of my favorites

I love this product! It totally gave me coverage and skin evening. It was long lasting and lovely smell. I topped it my powdered sunscreen and looked so natural. I received many compliments on my skin .

A must

Love all the products goes on light and smooth

Not as good as the primers

I do love the way it feels going on, I think personally I get much better results with the primers under my foundation. But it's still a very good product.

So smooth!!!

Love it!!! Very smooth and light,

yes

received a sample of this with my first order and it makes your skin feel great!

This product rocks!

I never leave home without wearing at least this. It has saved me more times than I can count. If you haven't tried it, you need to!

Wears Well

Looked good after a day at the beach and gave a little glow. Seems to have worked because I didn't get burned, Was a little uneven blending when first applied.

Daily Uc protectors

I love these easy to use smooth mineral products

Cindy

I love this product. It evens out my skin so well that I can wear it as foundation. Also love the way it feels on my skin.

Fashionista

Will never be without this product! Is velvety smooth when I apply it and has good coverage.

Use as daily foundation and love

This foundation goes on nice and smooth. I like that it has SPF built in. Nice and light and doesn't look like you have make up on. Very natural looking

Essential

I live in Colorado where the sun is always incredibly strong and I couldn't live without this primer. It's the first thing I put on my face in the am and it makes everything look super smooth. Love that it has sunscreen in it!

So smooth. So silky.

This feels just like silk when I put it on my skin. Gives great coverage and a nice sheen. Love it in combination with my Sunforgettable!

Too dry and bolcky

I order this product just the other day and I have to say, I'm truly disappointed. It's not silky smooth nor is it easy to apply or get off. I have tan complection it made me look grey. Nevertheless, it is dry.

So smooth and silky

Wow this feels so smooth and silky and I can't believe it is a sunscreen!!!

Wednesday "Wish I Would Have"

I wish I would have used sunscreen on my hands since my teen years. At 60 I noticed age spots from not using sun screen on my hands. I have been using the Daily protector with SPF 30 since I was first introduced to this wonderful product. I have purchased for my daughter so she can stay protected. No one wants to have greasy & grey hands but the product works great to blend with the natural skin color.

Replaced my primer & foundation with

I love this! The feel is great! No greasy mess. I actually do not wear foundation anymore-I use this instead. My skin has never looked better.

Feels wonderful

I had a mole removesd by my eye and it turned out to be BC skin cancer so I use this almost every day - smooth and easy

Smooth as silk!

I love how this feels on my skin!

Love it!

I first tried the whipped mineral sunscreen when I received it as a sample with another purchase. I loved it and was sad that it was not yet available for sale. Once I found out it was available, I purchased it right away and am so happy I did. The product goes on so silky smooth and does not leave my skin oily or irritated. It also provides a subtle color allowing me to no longer need/want my BB Cream. I'll continue to use this and would recommend it to anyone looking for a great way to protect their skin from the sun!

Loved it!

Got this as a free sample and fell in love with it! I know what I'm getting once my primer runs out!

Not my favourite...

I love, love, love colorescience. I love my sunscreen brush and I love the company.
I really, really wanted to love this, but it just didn't work for me.

Love it!

Daily UV Protector is a must have with my morning routine. I love the fact that it protects my skin from the sun and it's tinted! On occasion, I've worn this as my foundation and it stayed on all day. The whipped texture glides on my skin.

Two fabulous products in one!

I was so impressed when I tried a sample of it. I wished I had opened the sample sooner. Although advertised as a UV protector, this product is slightly tinted. Sometimes, I skip putting foundation over it. When I first saw that the product was tinted, I was a bit leery of how it would look on my face, but the pigment in the UV Daily Protector blends beautifully with my skin. This is a product that makes my face look great while providing excellent sun protection. I love it!

Amazing!

I love putting this on every morning and then just walking out the door!

Great UV protector!

Great color, not greasy at all, works well under my colorescience powder foundation or spf powder.

Everyday, without fail.....

This is the first product that I've used religiously and I will never be without it! Living in the Southwest can be tough on skin. Now, I feel like I have a great start to the day and haven't been disappointed with this product.

Primer & Sunscreen in One

I received a sample of this and loved it so much I purchased the product. It is sheer light coverage with a glide on feel, seems to act as a primer along with being a sunscreen. I cannot use most sunscreens on my face as they irritate my eyes even keeping them away from that area. This has no irritation and no smell like most.

love it

Lightweight, great product!

I'm impressed!!

I usually don't pay much attention to samples, but I will definitely purchase this Daily UV Protector after trying a sample. I love the consistency and coverage of the product. This product still looked great after I spent time outside perspiring in the Texas heat.

Great product

I use this every day under my foundation. I feel protected from the sun. It is very important to me, as my job, is outside and I don't want to get more sun damage.
The product goes on smooth and blends very well!

Loved it at first - After a little while of use, It's just o.k.

For the first week I really loved this product and used my samples up. I decided to purchase some and I am not as happy after several uses. The coverage is ok, paired with the SPF 50 Brush; but I'm getting very greasy and oily looking by the afternoon. My face seems to get extremely shiny after a couple hours so I've been blotting throughout the day. I think I will go back to just using the Matte Primer and SPF Brush.

Love It!

I received a sample of this with my order and Wow! Loving it!
I do not wear any foundation and was a little concerned because of the tint. But my goodness it blends in and disappears yet gives you a smooth looking complexion. Plus it protects your face. Absolutely love it!