Gel Eyeliner
Easy to apply, rich crème formula. Long-wearing Colorescience® Gel Eyeliner gives you intense pigment that won't smudge or fade.
Vegan: Yes
Paraben-free: Yes
Unscented: Yes
Ingredients:
Isododecane, Polyethylene, Cyclopentasiloxane, Trimethylsiloxysilicate, Disteardimonium Hectorite, Phenyl Trimethicone, Hydrogenated Polyisobutene, Mica, Lecithin, Propylene Carbonate, Phenoxyethanol, Barium Sulfate, Iron Oxides (CI 77499)
Press flat end of eyeliner brush lightly along the base of lash line.
Use long, sweeping strokes to apply along the upper lash line.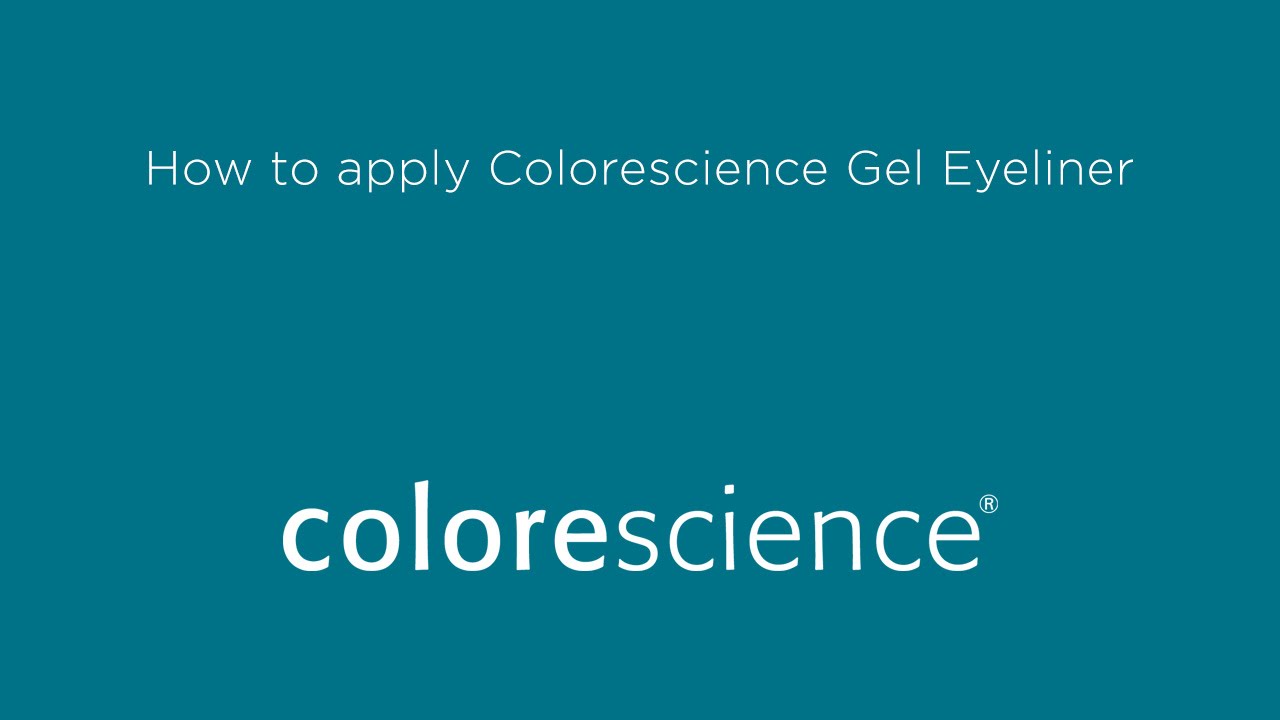 Customer Reviews
LOVE

This is the best long wear, smudge proof, waterproof mascara ever! I hope it's never discontinued!

Best eyeliner!

I love this liner. Stays on but not too difficult to remove at the end of the day.

I use this every single day!

I love the fact that it's mineral, it's so beautifully creamy and easy to apply as well as super easy to remove. Will always recommend.

Good product

Glides on smoothly and lasts all day.

Perfect for people with lash extensions

Super fluid and it doesn't cake or build up in my lashes! Love it

Great eyeliner

Non irritating - awesome

Easy to use

Has a very fine tip, so it's easy to use. Great cat eyes!

Love it

I could never find an eyeliner that I really liked until I found this product. Love how easy it is to apply and stays on all day!

Easy to use

Easy to use liner.

Best gel eyeliner

I'm more of a pencil person, but I love this one just as much!

Perfect Cat-eye

The longest lasting eyeliner I have yet to use.

Easy to use

Easy to use! Looks great.

Jennifer Chandler

Perfect

NEVER USED EYELINER BEFORE

I never used eyeliner before because it was to hard to apply and I never thought I could get it to look good. This gel eyeliner is so easy to use and it seems that I get it on perfect every time. it is so easy and I cannot imagine my make up routine with out it.

Just got love it

Just used this yesterday. Great liner in black

Love!

I love how easily it is to apply and how it glides on without smudging!

Perfect!

Please make more colors :)

Kristin F.

If your eyeliner runs and you end up with raccoon eyes, try the Colorescience gel liner! It stays put and lasts all day with minimal smudging.

Eye popper!

I love my gel liner! Goes on with ease and stays put. Easy to go from casual to dramatic. Helps my smaller eyes pop!

Perfection

Does not smudge, looks great all day! Please make more colors :)

Great eyeliner

Lasts all day, please make in more colors!

Lasts all day

Lasts all day, doesn't smudge, and looks great. The one thing I really appreciate about this eyeliner is that it doesn't irritate my eyes. I wear contacts almost every day, sometimes for 14-15 hours straight and eyeliner usually irritates my eyes towards the middle to end of my day. It goes on really easy and dries very quickly. Doesn't smudge, either!

Perfect gel liner

Great gel eyeliner! Goes on smoothly and lasts all day!

Bold and striking!

Very versatile. Can be worn thin or thick. I personally like to use the Eye Pencil and go over it with this. Always looks great.

cosmeticstylist

Like products, gel eyeliner & powder sunscreen

super eyeliner

Great product. I've tried many pencil eyeliners, recently a brand that claims to remain put for hours, but this eyeliner is the only one that has proved to last for hours without creating raccoon eyes at the end of the day or after a workout. It can be smudged and worked with when you put it on. After that, you can forget about it for hours!