Mascara
Lash by lash, Colorescience® Mascara enhances the appearance of length and density, while a peptide blend helps nourish, condition, and prevent breakage.
Vegan: No
Paraben-free: Yes
Unscented: Yes
Ingredients:
Aqua, Acrylates Copolymer, Copernicia Cerifera (Carnauba) Wax (Copernicia Cerifera Cera), Beeswax (Cera Alba), Palmitic Acid, Simmondsia Chinensis (Jojoba) Seed Oil, Glycerin, Cetearyl Alcohol, Arctium Lappa Seed Extract, Acorus Calamus Root Extract, Myristoyl Pentapeptide-17, Panthenol, PVP, Myristic Acid, Sodium Hydroxide, VP/Hexadecene Copolymer, Octyldodecanol, Stearic Acid, Hydroxyethylcellulose, Sorbitan Sesquioleate, Polysorbate 60, Ethylhexylglycerin, 1, 2-Hexanediol, Caprylyl Glycol, Benzoic Acid, Sodium Benzoate,Phenoxyethanol, Iron Oxides (CI 77499)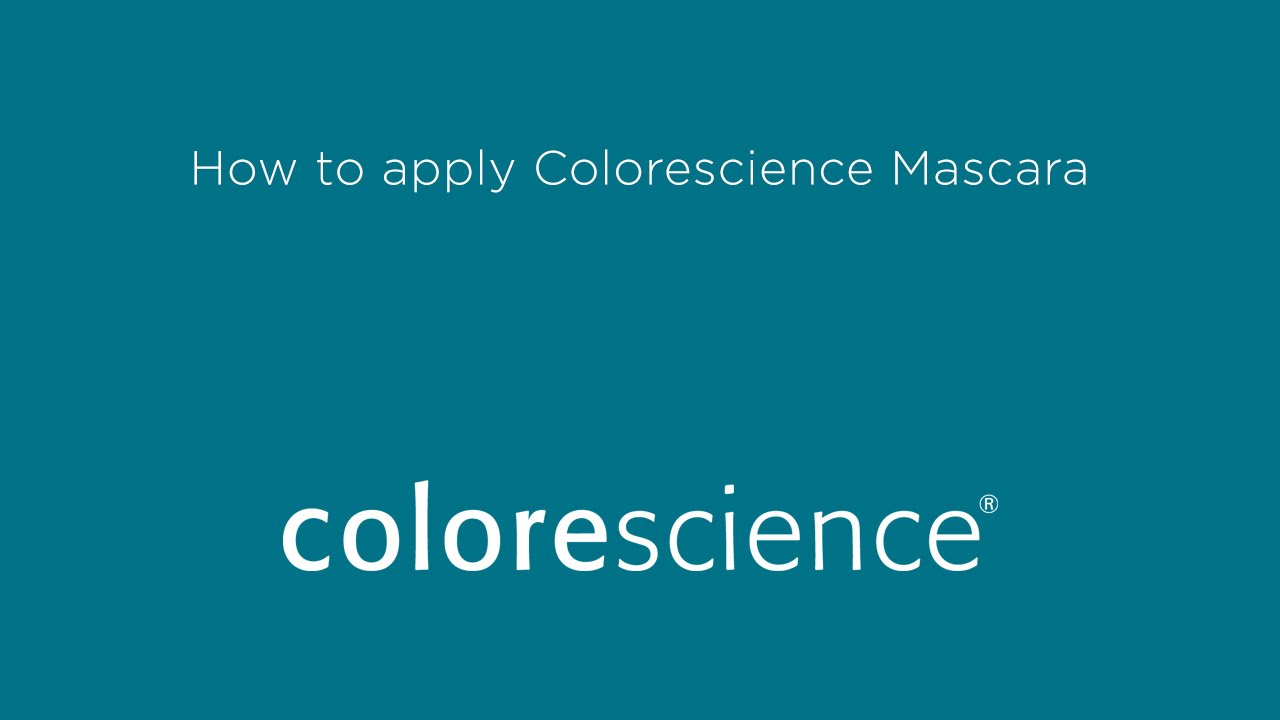 Customer Reviews
Wow!

Got this as a free gift along with my eye renewal therapy a while back and it's easy to wear with no smudges!

Excellent

Works well, love it! No clumping or irritation.

Amazing mascara

Makes my lashes look super full and long! I tried a different one and just switched back to Colorscience.

I am in love

Does not flake or clump!

Best Mascara Ever!

I absolutely love this mascara! It is the best I have ever used. It looks flawless when I put it on. I am so happy with it!

The best mascara

I love this product. Mascara provides nice definition without smearing or flaking.

Best Lashes Ever!

This mascara give me natural fuller looking lashes, no clumping.

Worth the price

This is my favorite mascara I have ever tried. I just wish it would come in a brown shade as well as black.

Mild!

Such a mild mascara! I love that it doesn't get crusty and nourishes my lashes.

Amazing natural look!

My eyes tend to be very sensitive to other mascaras BUT this mascara has somehow done the impossible! My eyes don't even feel like mascara is on them, plus it doesn't give me raccoon eyes! Perfect eyelash separation, no clumping, and that wonderful natural look with just enough oomph for my preferred daily look. Love this mascara!

Mascara

Works well, you don't need an eyelash curler with this mascara, it curls your lashes for you and gives nice volume and length.

Good but not Great

I like the mascara, however it's not my favorite for lengthening results. Doesn't fade or smudge which is great!

Enhancing

This mascara really enhances my eyes and it lasts all day with no smudges!

The only mascara on the planet that doesn't hurt my eyes

I have no idea how many brands I've bought, but this stuff is so great that I don't even think about the fact that I'm wearing it. With other products, my eyes get super irritated. If you like the heavy mascara look, this isn't for you, but it's great if you want that subtle, natural look.

Favourite mascara

Really easy to wear. Goes on easy, no clumping, comes off easily. Works well!

Not as good as some of the other brands

Better than store brands, but there are other well-known brands that are less expensive with better results.

Great lashes!

This mascara is an all-around favorite. It conditions and enhances lashes and wears well. Love it!

BEST Mascara

I love this mascara! Doesn't clump or flake, makes my lashes look long & natural. Bonus - it comes off very easily. For me, it only lasts about 6 weeks but worth purchasing that often.

Not a usual mascara user.

I have long lashes and wear glasses, so I usually avoid mascara as it stains my lenses. This is a really easy to wear mascara that I reserve for special occasions. It goes on smoothly, does not clump and enhances my lashes without weighing them down or making them look cartoonish.

Fantastic

I love wearing this mascara on an everyday basis because there is no smudging, even if I'm sweating up a storm! It makes my lashes look longer, fuller and is very easy to remove. I highly recommend you won't regret it.

Best. By. Far.

Like any woman, I have tried dozens and dozens of mascaras. It either doesn't work well, it runs, it makes my eyes itch, or it's just, OK. This mascara is a completely different story. Not only does it enhance my lashes, separates them perfectly, but it also lasts all day WITH NO SMUDGING!!! When people ask me about my makeup, when they ask me about products at all, I ALWAYS tell them about this mascara. On behalf of all women, "Thank you Colorescience for getting it right!" :)

Amazing Mascara!

Love this mascara! The application brush is high quality and allows for precise application to the eyelashes. Once on, the mascara doesn't smudge nor flake. I started wearing it at the beginning of the summer with temperatures in the 80's and high humidity, and it performed as expected. I recommend this product without reservation.

Much Better Than Expected

I received this as a gift with purchase and loved it. It is now my go to mascara!

Love it!

By far my favorite mascara. Doesn't bother my eyes and love how much easier it is to take off!

Great mascara

I like using this mascara because it is light weight and doesn't clump. Easy to remove also.

Wonderful, healthy mascara

I've been using this mascara for about 6 months and I have definitely seen an improvement in my eyelashes. They seem longer and fuller. I feel this mascara has helped them. I like the way the mascara goes on - not too clumpy looking. My eyelashes look very natural with this mascara, but full & long. Worth the money.

Absolutely love the Mascara

I'm very picky about my mascara and this has by far exceeded my expectations. It gives me length without clumping and no smudging under my eyes.
I am a forever customer

Love!

The best mascara ever! Stays put all day but easy to remove at night!

Really nice results

I received a sample at the local clinic, and loved! Didn't clump. Looking forward to ordering.

Does not smudge

It's the only mascara I can wear when I'm riding my bike because if my eyes tear, it doesn't smudge and I can wear it all day and I do not end up with black under my eyes! Love this.

Mascara is the best!

I love this mascara! This is the best one I have ever used. It's amazing because it lasts forever.

Best Paraben Free Mascara

My lashes are so much longer and healthier when using this.

Fantastic mascara by Colorescience!

This mascara is fantastic. It goes on beautifully and looks amazing. I highly recommend it!

Best mascara on the market!

This is the best mascara on the market. It's excellent for sensitive eyes and doesn't flake at all! I love it!

Not disappointed!

Okay I have like 20 mascara's in my drawer! I finally decided to spend the money on this one since I'm loving the other products so much and as with all the others it did not disappoint! No raccoon eye! The only time it flaked was when I wasn't thorough enough in removing it. So happy with this brand of products. It's worth the money.

Love it!!

I got it as a gift and I really love it!!!
Looks natural and stays on without flaking!, It comes off easily.

Best mascara ever!

The first time I used this mascara I loved it! I got a makeup consultation then went swimming. Came out of the pool and my makeup was still intact! Mascara isn't clumpy!! Worth every penny!

The best wand ever

I love the way my lashes feel when I put it on.

Favorite mascara

This mascara has a big brush that makes it easy to apply. No clumps, no raccoon eyes. Makes my lashes long and beautiful!

Hope they bring it back.

My favorite mascara. It's a bit pricey but well worth it.

Suprised

I love this brush and formula. I got it as a gift and really like how it makes my lashes look!

Excellent mascara

Goes on smoothly. Stays on well. Is easily removed.

Stays on

I put it on in the morning and it stays on all day through tubing down the river and everything.

Love it!

The coverage is amazing (full but not clumpy) and stays on without flaking! It comes off easily and my lashes seem much healthier and are not falling out like they would with other brands. It's a keeper!!!

LOVE

I think I've tried every mascara on the market.....NOTHING has surpassed this product from Colorescience. It stays put yet it's easy to take off at cleansing!

Mascara

So natural love it.

So good

I love this mascara!! It goes on nicely without clumps and it's super easy to remove too!

Great mascara!

This is absolutely my favorite mascara! Love it so much. Goes on flawlessly and stays on!

Good mascara

Pretty good mascara

Amazing Formula

Such a great product! I've struggled to find a mascara that is truly smudge free and doesn't leave "raccoon circles" under my eyes. This mascara is perfect - no flakes or smudges. AND, it's simple to remove!! In love!

The best mascara I have ever had

I like the formula of this mascara a lot. It goes on nicely, doesn't flake or clump, and it lasts whole day without any touch ups. My lashes always look long and lush, without looking too heavy and I get a lot of compliments! I also love how easy it is to remove it.

Very Nourishing

This product helps nourish and strengthen the lashes

Love it!

Very nice. Doesn't clump. Doesn't make my eyes itch. Will never buy any other brand again!

Great for sensitive eyes

I have dry eyes, where contacts and have a hard time finding products that don't irritate the skin around my eyes or burn my sensitive eyes. This mascara is awesome because it doesn't flake or run or irritate my eyes and comes off with just warm water.

Works For Me!

Gives lashes a great look without clumping. Lashes look long, healthy, and natural. Washes off easily.

Great Product

I use it everyday. My lashes literally look healthier. I love it! =)

Excellent product

Easy to use.

Mascara

I absolutely LOVE this Mascara! My lashes have never looked healthier!

Awesome!

This product is so natural, and adds a beautiful color to my lashes. It isn't clumpy, or dry. Love this product.

The best

Never runs. Never flakes. Never smears. Removes easily. Stays all day. It's the best!

Awesome!

Was a little hesitant to try as I am extremely picky about my mascara. But, I am so glad I did! Goes on very natural or you can build it for a more dramatic look. Does not clump or smudge! Yay!!

No more raccoon eyes

I love this mascara. It is easy to apply, doesn't get "blobby," and best of all, it stays where it belongs--on my lashes, not under my eyes.

Amazing

Best mascara ever! It stays where you put it and doesn't flake off!

Best ever!

This mascara provides a natural, not a heavy, look. It stays on all day but washes off easily at night. Very satisfied!

Mascara

Amazing love the product

Love, but dries out quickly.....

I love this mascara. However, I find it dries out more quickly than others. I know it's probably due to no additives, but wish there was a way to extend it a bit.

Smooth

Not clumpy like others, great product

perfect

goes on easy comes off easy, stays on great!!

Amazing

Best mascara ever

Excellent mascara

This is my new favorite mascara! I've used a lot of high-end brands that end up smearing or flaking , this one stays all day by the end of the night it looks like I just put it on fresh! Makes my eyelashes look lush and long and full without looking like I have put too much mascara on! Love!!

Not the best product by Colorescience

Don't waste your money on this mascara. It's clumpy and does not work. I returned mine.

Worth the little extra

This mascara stays put all day. It enhances just enough and I even noticed my lashes growing longer and fuller.

Love!

From now on, this is my only mascara!

Not real crazy about it

Used this for the first time and ended up putting my Este Launder over it, seemed to work better as a primer instead of a mascara. Probably won't order this again :-(

Adds volume and length

Love this mascara. Does not smudge and enhances my eyelashes.

Great Mascara !

Have used many mascaras over the years and like this one the best. Does not rub off or clump during application. Nice fragrance too !

Best daytime mascara

A friend recommended this mascara and I was skeptical. I've found it to be perfect for day wear, no clumps and no smudging. And I think my lashes are starting to look a bit healthier. For "nights out", I use a mascara made for more "drama" over the top for darker/longer lashes

I did not rub off all day

yes, it does stay on

Long lasting

I've been using this mascara for a couple years. I have sensitive eyes but this has never given me issues. Long wear too and washes off easily.

Great

Does not irritate my sensitive eyes and it is long lasting!

Works

I use a condition under to thicken it but it's ok mascara

good everyday mascara

I really like this mascara for a day time one swipe natural look. It does not build well for me for a night time glamour but for all around everyday wear its great. No flakes, stays put, and I haven't noticed any eye irritation.

Best Mascara Ever

I've tried many brands of mascara over the years. Without a doubt this is the ever. I love it because it goes on smooth, very hard to make it clump (I tried) and it stays put and doesn't flake off during the day. I'll be back for more!

Stay on all day- Amazing

Stays on my eye lashes all day... much more effective than any "Waterproof" mascara I have ever tried and is easily removed at night... Amazing!!

Its Okay

The colorscience mascara is just average in my opinion. I prefer volumizing mascaras and legthening mascara. It seemed this just applied a black coating to my existing lashes, but didn't enhance them. It just okay, but I had high hopes because the rest of the Colorscience line is amazing and quality.

Love it

No clumping, no flakes! Stays on all day.

Best Mascara I Have Used

I love this mascara because it does not clump and it does not come off under my eyes.

Best Mascara

I've tried so many others, but this one is the best. It goes on smooth, no clumps, and never rubs off below the eyes no matter how long the day gets. No raccoon eyes!

Big and beautiful!

At first I didn't care for the mascara because I was not used to the bigger brush. I'd always used smaller ones. But once I used it a few times I was hooked. Beautiful long plush lashes that look great even at end of day. I also like that when I'm ready to take it off- little effort does the trick!

Love this!

My favorite mascara.

my favorite

I will never use any other brand - stays on all day, no clumps, perfect.

Mascara

I've been using this mascara for over six months and love the way it doesn't clump. I think the look is softer and a little more natural than what I get from other products.

Love this mascara

After using this mascara, I will not use another brand.

Favorite!

I'm super picky on any eye product! This is the only mascara I use! It is smooth and never clumps. It is very long lasting but washes nicely away. I will never use another mascara as long as this is available!

Florida Tested

Love it!!! I live in a very hot and humid climate and this mascara does not run or smudge at all!! Please make in more colors :)

Still Love it and Gym Tested!

I have been using the mascara for about a month now, I love love love it!
Yesterday was the first time I tested it at the gym. I live in the deep South and boy is it HOT and HUMID; I am a crossfitter, and literally feel like I'm melting from sweat during the workouts. Needless to say, I try to wash my face before every workout to keep from getting my pores clogged. Yesterday, there was no time to wash my makeup off, so I thought "colorescience will be put to the ultimate test today!" It was amazing! My mascara did not run down my face after pouring with sweat & blotting with a towel (several times during the workout) and the rest of my colorescience makeup held up extremely well too! I'm just so impressed with the mascara I had to leave a review. What makes it better: When I washed it off at home, it came off easily unlike the waterproof mascaras. A+++++ Thank you colorescience!

Love

This is by far my favorite mascara! I love the big brush that it comes with which makes it easy to apply and separate lashes. It easily washes off with warm water yet it lasts all day and does not smear. I highly recommend it.