Mineral Corrector Palette SPF 20
Imperfections? Blemishes? Dark spots? Camouflage, conceal, protect and brighten with Colorescience® Mineral Corrector Palette. A makeup artist's essential, cast a spell on any imperfection with five skin-neutralizing shades and the confidence of SPF 20 protection.
Net Wt. 12 g / 0.42 oz
Non-comedogenic
Correct imperfections and restore confidence.
Complete with five neutralizing shades, Mineral Corrector Palette instantly corrects the look of imperfections while providing SPF 20 defense from UV rays and environmental stressors.
Lightens Red Tones
Ideal for concealing:
Blemishes, Redness, Broken Capillaries
Corrects Red Tones
Ideal for concealing:
Blemishes, Redness, Broken Capillaries
Covers Blue & Brown tones
Ideal for concealing:
Dark Spots, Under Eye Circles, Tattoos, Post-procedure Bruising
Corrects Dark Blue Tones
Ideal for concealing:
Dark Spots, Under Eye Circles, Post-procedure Bruising
Covers Yellow & Green Tones
Ideal for concealing:
Under Eye Circles, Post-procedure Bruising
Specialty Ingredients
Helps create a non-irritating moisture barrier on the surface of the skin for a hydrated and youthful appearance.
An antioxidant that nourishes skin with Omega 3-6-9 and shields from oxidative particles, providing a more rejuvenated and softer complexion
A powerful antioxidant that helps guard against free radical damage.
All Colorescience Formulas are 100% Free From
Parabens

Phtalates

Synthetic Fragrances

Animal Testing

Talcs

Dyes

Mineral Oils

Drying Alcohols

Chemical Sunscreens
Complete with five shades to neutralize red, blue, and yellow tones, Mineral Corrector Palette provides longlasting, natural-looking coverage, plus SPF 20 defense from UV rays and environmental stressors.
Five blendable shades seamlessly correct imperfections and enhance your natural beauty
Lightweight, breathable and hydrating pressed powder formula melts into the skin, without the heavy layered look of a cream concealer
Antioxidant- and vitamin E-enriched formula helps shield against skin-damaging free radicals
Chemical-free SPF 20 sunscreen utilizes minerals for UVA/UVB broad spectrum protection
Part of our 4 Minutes to Flawless™ product line
Dermatologist tested
Non-irritating
Paraben free
Water resistant (80 minutes)
Vegan: Yes
Paraben-free: Yes
Unscented: No
Active Ingredients:
Titanium Dioxide 21.2%; Zinc Oxide 12.1%
Inactive Ingredients:
Mica, Ethylhexyl Hydroxystearate Benzoate, Tocopheryl Acetate, Daucus Carota Sativa (Carrot) Seed Oil, Glycerin, Methicone, Dimethicone, Triethoxycaprylylsilane, Lycopodium Clavatum Extract, Imperata Cylindrica Root Extract, Lauroyl Lysine, Silica, Pelargonium Graveolens Flower Oil, Cananga Odorata Flower Oil, Fusanus Spicatus Wood Oil, Phenethyl Alcohol, Sodium Dehydroacetate, Caprylyl Glycol, Phenoxyethanol, Potassium Sorbate, Benzyl Benzoate, Farnesol, Linalool, Bismuth Oxychloride (CI 77163), Chromium Oxide Greens (CI 77288), Iron Oxides (CI 77491, CI 77492, CI 77499)

Shade one lightens red tones, shade two corrects red tones, shade three corrects blue and covers brown, shade four corrects dark blue and shade five corrects yellow.
Try each shade alone or blend to find best coverage based on your skin tone. For best results, layer over colorescience® Skin Perfector or Foundation with a patting motion to press product onto skin. Continue layering until desired coverage is achieved.
HELPFUL TIP: You can use this versatile palette a million ways: Neutral eye shadow base, correct dark spots, cover blemishes and many, many more! See video for how to use this versatile product!
" This palette is ALWAYS in my kit. I will not work without it."
-Award winning makeup artist Tracey Anderson (Sons of Anarchy)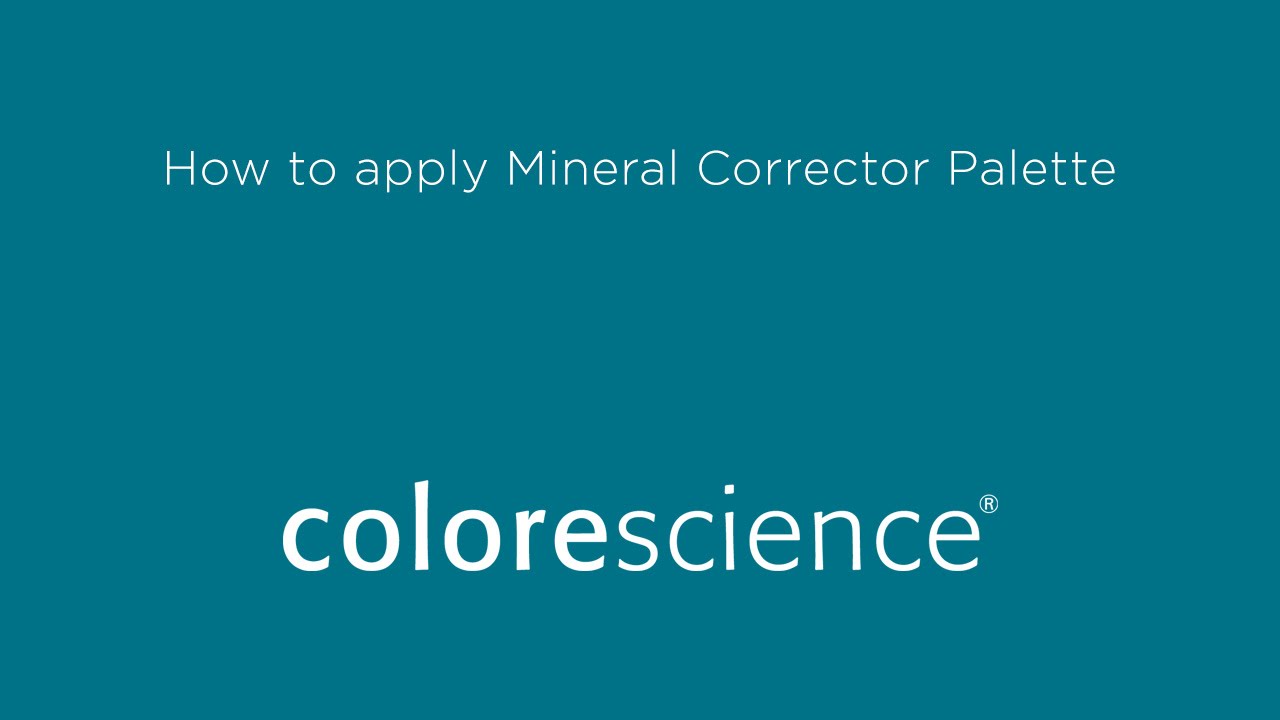 Customer Reviews
Disappointing

I bought this to cover redness from acne and hyper-pigmentation, but this did not help at all. I tried this many different ways and it did not go on well and did not cover anything. You are better off with their pressed foundation because it has way better coverage than this.

Awesome Palette

This palette not only covers dark marks and scars, but you can use it as eye shadow too. It is a great way to save space on overnight and weekend trips.

Great concealer!

I have red in my skin and its easily irritated. This covers great. Best if skin is moisturized or foundation before because otherwise can look flakey. Travels well and covers well.

10 Years Younger

This palate of shades transforms my skin to look 10 years younger. I love it and use it daily. I have been mistaken for my 16 year old grandson's mother.

Great product

Its amazing!

Travel must have

So versatile! You can pretty much do your whole face with this and I never travel without it. Take a brush over the whole thing for a neutral powder or use them as spot coverage as directed.

Great product!

This is by far the best corrector I've ever used! Helps cover a scar on my cheek better than anything I've ever tried. I highly recommend!

Really works!

I was super surprised that this product works! I sometimes have difficulty blending to match my skin tone.

Travel Champ

One of my favorite products! You can do your whole face with it. Cover up, under eye and if you use a brush over the whole thing, it acts as a neutral powder. When I travel I take All Calm, Mineral Corrector Palette & Beauty on the Go!

Glowing

This is my favorite Hydrating Mist!! I love to keep it in my purse and spray when I need a pick me up!! Great for after chemical peels too.

Best coverup!

My friend talked me into trying this because we were talking about breaking out. My skin generally runs a little oily and mostly breaks out when I'm on my period.

Bought this and cannot say anything but good things. It covers up my little blemishes and doesn't add oil to my skin or make them break out further.

Excellent Palette Corrector for eyes & face!

I love this palette corrector. It is incredible for my eyes and face. It protects with an SPF and also covers. Highly recommend it!

Multi Coverage Palette

This is a nice palette that covers many skin concerns. I like having the option to cover many different problems because I experience them all at one point or the other. It is also long lasting.

Love the choices

Very easy to use and even looks great as an eye shadow!

ONE OF THE BEST

Flawlessly covers imperfections. Very versatile and love that it does not cake!

Love!

The shades in this palette allow for the perfect blending when trying to conceal blemishes or scars!

Works!

I was surprised that this product worked so well. Great hiding discoloration.

Favorite Product

I have so much redness to my skin, but not anymore! I use my Colorescience Corrector Palette daily to cover my redness.

Definitely a Winner!

I was a little skeptical at first when a friend gave this to me to try but it's amazing. It only takes very little product to cover imperfections and it looks very natural. Love this product!

Amazing Product, would not leave home without it

The color corrector palette is wonderful. So easy to use and covers under eye shadows as well as dark circles and imperfections. All the colors in the palette work together so you are assured to match your skin tone. Use the brush by tapping and pressing product into skin. Works better than anything I've ever used. I just order one for my daughter who fell in love with it the day it arrived. Covers breakouts and is gentle on acne prone skin. A+++ product.

Amazing Coverage

A must have for those looking for a way to cover Melasma. You are able to layer the colors for amazing coverage. This one product was a game changer. I combine it with my pressed foundation and get awesome coverage.

A Must Have

I love the corrector palette! It is a must have. Easy to use and blend with other Colorescience products.

Amazing

Used this to cover a nasty bruise- what a game changer! Wish I know about this years ago. Excellent at covering blemishes as well.

Does It's Job

I think this product is 4/5 on coverage but does help neutralize discoloration. I recommend if you have scarring, bruising or other color variations to cover.

Best coverup

Great buildable coverage. Covers acne and rosacea well!

Great with SPF 20!

The mineral corrector now contains SPF 20! I am happy about this because for a long time it did not. I like the fact I can use it everyday and it covers any blemishes and redness on my face.

Always a winner in my makeup bag

I cannot say enough how amazing this product is for covering up. It's so quick, so easy, and so very versatile. I don't think I have ever found a makeup product that can be used in so many ways for makeup application. I'm all for makeup that has more than just one purpose.

Great Concealer

I love this as a concealer because unlike liquid ones, it doesn't cake around tiny wrinkles. Just gives me smooth skin.

Excellent color mineral palette!

The color palette is amazing. It has everything you need to cover up dark, blue and brown spots. It's incredible. Highly recommend!

Holy grail product

I've been using this since high school!! It's the best concealer palette I've ever used and I can't live without it.

Best Coverage

This product is the best for covering up everything from a break out to post procedure bruising or redness.

Paint-by-Numbers

I call it my little paint by number corrector palette! Absolutely love it. Evens everything out...red blotches, brown spots, under eye...I wish you could get refills for only the colors you use (I only use 3 out of 5) because it feels wasteful, but otherwise - 5 stars!

Helps cover melasma!

I was having a hard time disguising my melasma under makeup. This palette really works wonders and has helped my confidence!

great cover up

This has been the best cover-up for red spots, acne and age spots. I use either alone if I am just running to the store and have an acne break out and apply the Sunforgettable on top; and I apply on top of the even up.

Great Cover Up

This stuff works super well! Awesome on red spots and blemishes, and even works pretty well on bruising. Kind of wish there was a little more of the red-correcting tones since I use those ones most frequently, but overall a really good product.

Multi use!

Works well for blemishes and even as eye color too!

Versatile

I used this not only to correct blemishes but also to contour my face. Great product

Covers post procedure bruises

This is a must for post procedure bruise coverage. It also is a great all around palette for any skin tone to brighten and lighten. I highly recommend this corrector palette

Best Mineral Corrector Palette!

This mineral corrector palette is incredible. It blurs my hyper pigmentation issues and any redness I have. It's the best!

Great product, slightly too many options and poor packaging

I had typical peaches and cream complexion until I moved to Los Angeles in my early twenties. Suddenly, my skin erupted as a reaction to a completely different environmental moisture content (English humidity versus California dry). Acne became a hideous and ongoing issue and left scarring. I tried many products both during and after breakouts. I finally found Colorescience Mineral Protector and that had been my cover-up option ever since. I do wish the palette was smaller. My skin tone can use the first 3 light options but every time I use a palette up I have to discard unused the right two options. It's a waste, and it's an expensive waste - both in product cost, and environmental waste. Plus a 3 option palette would fit easier in my bag. And every palette I have owned has at least one color come loose and fall out. For the price point I'd like to see the palettes stay secure. The poor glue earns a 5 star price 3 stars as this is a complaint I have seen voiced for years with no resolution.

Cover up

Great cover up that doesn't feel cakey. Easy-to-apply and blend!

Mineral Corrector Palette

I really like this product. I love the colors!

Love

Love this! Can layer and not look cakey

My Every Day Perfector

I don't go a day without using this palette. I use one for under eyes, another for redness and blemishes. It's so easy to use and makes a huge difference on how good my makeup looks.

Corrector

This pallet covers my uneven skin tone flawlessly.

Love this product!

Instantly covers my brown and red spots and makes my skin look flawless! So happy I discovered this product!

Good Correction

I use the first three often! However the other powders are hardly used.

Awesome Concealer

This concealer works like a charm! I love that I can use different colors throughout the year!

Cannot go without

If I use only 1 product - this is it!

Amazing results!

I was very skeptical about this product as I have very dry skin, so powders typically look cakey and are drying on me - but not in this case! Admittedly, I put it on lightly but it still makes a huge difference! I have under eye circles, brown spots & freckles & this really helps & is so easy to apply! I use a very moisturizing SPF so a cream concealer is just too greasy.

Love this as a concealer!

I only use this as my concealer. If I'm in a hurry, it's enough on its own (over moisturizer). I also use the darker shade for eye shadow. Love this stuff.

Effective powder concealer

Love the powder texture to conceal without changing consistency with my powder foundation. Or, I dab a bit over my traditional concealer for fuller coverage.

Splendid coverage

My dermatologist swears by these products. She put this on me after my Botox and you would never have known I got anything done. Used the sample for days and ordered my own set. Does what it says it does!

This is a fantastic palette

I tend to have blemishes and a few scars that need correcting for a flawless look amd this palette does the trick! I use this for quick touch ups under my mineral foundation and am out the door!

Best powder I've used for coverage

This powder covers really well but if I use all the shades, it's just too dark. I have very light skin. However, I just stick to the lightest 3 and have really liked the product.

BEST EVER!!!!

This product covers blemishes wonderfully, can be build-able. Lasts all day!

The best ever

I have severe Melasma all over my face. I mean my face is covered with ugly brown patches. I use Corrector Palette shade 3 and 4 it covered the brown patches really, really well. I use shade 1, 2 and 5 as eye shadows. CS is the best ever.

Always in my purse

This is a great product that I always have in my purse for touch-ups. It blends amazingly. However, I only can use the first 3 colors so that is why it is only 3 stars. Hopefully since other people have made this same observation they will change the shades offered for the price.

Flawless Correction

I love this product. It flawlessly covers dark spots and under eye circles. I have medium skin and tend not to use the lighter shades. But the best part is it has SPF!

Lots of color corrections.

This product covers up any imperfection from under-eye darkness to acne redness. It is great!

Love this!

I love the corrector palette. Covers up imperfections and post-procedure bruising! Fabulous and magical -- Like a skin eraser!

Covers any zit flawlessly

I use this palette to cover any zit, red broken capillaries around my nose, and my under-eye circles! It's amazing.

Decent Coverage

For a powder foundation, this has great coverage. For foundation as a whole, it's pretty decent. I like that it feels so light on my skin!

GREAT COMPACT!

I love this product! I use for under eye coverage, lid primer, under eye brow highlighter, and then I run the Kabuki brush over the entire palette for my foundation coverage! Wish it was refillable for the ones I use the most.

Great tool!

Love the different shades, all-in-one!

Nice coverage

I wish this product had a bit more coverage, but for a powder foundation/corrector it does pretty well!

I don't use all the shades so not worth the cost

I only use shades 1 & 2. They cover wonderfully but I can't spend $55 to only use 2 of the shades. I really wish you would offer refills or a custom palette where you can pick your shades. I would pay $55 if I could get a palette with 3 numbers 1s and 2 number 2s. I see numerous other reviews with this same complaint.

Great product

The colors that I can use in the palette are excellent. Would like to see individual pans available too please

Mineral Corrector Palette SPF 20

A few of the tones tend to be a bit too dark

Amazing for color correction and redness!

Great mineral corrector for redness, dark spots and irritated skin. It soothes while giving coverage and protects with SPF 20!

Covers up just about anything

I really only use one or 2 colors but the darker shades can be used as eyeshadows or eyeshadow base.

Good but ...

I love it for coloring hyperpigmentation. I would love to use it as concealer but I can't figure out how to do it without it looking too powdery and settling in my undereye wrinkles. If you have brown spots on your face this is for you. Also, if you have red blemishes, this covers them up so you barely notice. My husband even used when he had an angry looking blemish!

love!

love! just want more colors

Works great

Quick and coverage lasts without feeling thick

Works

I purchased this item thinking it was a cream concealer; however it is powder. Works well for powder.

Excellent Color Mineral Palette Corrector!

I love this mineral corrector. It is amazing! It covers up dark spots; hides redness well; and gives me a nice glow. I love it!

The only makeup I need

Since purchasing this pallet, I no longer use foundation or any other type of concealer. I love the way this works to conceal blemishes and pigmentation, including dark circles under my eyes.

Not for me

Maybe I'm not doing something properly, but this product does not blend in well for me. Settled in creases under eyes leaving a caked powder look.

Colorescience reply: Hi Lisa, for best results we recommend layering over a Colorescience Skin Perfector or Foundation with a patting motion to press product onto skin. This should help as the formula is lightweight, breathable and was designed to achieve a natural look without the heavy layered look of a cream concealer.

My very favorite coverup

This palate is PERFECT for covering up zits and imperfections like broken blood vessels on your face. Love love love

Great Product

The Mineral Corrector Palette is one of my favorite Colorescience products. The 3 lighter shades work wonderfully well for me to cover dark spots, blemishes or redness. Although the two darkest shades are a little too dark to blend my skin tone, I use them as a natural looking eye shadow.

Love it!

I carry this with me when I go and get treatments. It's great in covering up after laser and after any other facial treatments. I bought one for my daughter for some of her acne spots as well!

First use

Applied in dr office for bruising at post surgery checkup. Nice coverage.

Very excellent coverage

The best concealer I have used in powder form.

Simple

Perfect product for me that really doesn't want to spend a lot of time with my makeup!

Wonderful Concealer

The perfect concealer but I really wish they sold individual shades, it is worth getting but after I went through 2 of these pallets I couldn't buy another, I just have no need for the darker shades.

Post Filler

This product is great for post filler injections as well as everyday use

Great Products!

I love the corrector Palette. I use all these shades to cover any imperfections on my face that the foundation did not cover. I love how it feels on my face, does not feel heavy.

All you need

I love how this has everything you need to achieve a nearly flawless complexion. It's goof proof, and easy and effective. One and done!

Great....BUT

I LOVE this product because it definitely covers my scars, it's super light weight and feels like I'm not even wearing make up. HOWEVER, I only use 3 of these 5 colors regularly and I have at least 6 of these compacts sitting in my bathroom drawer because y'all won't make full size compacts of these colors and this type of make up. I have tried what you have recommended and it felt THICK AND HEAVY. This is the only product you have that feels light weight and doesn't make me break out more. Please, for the love of my face, my wallet and my bathroom drawer, MAKE THESE IN A REGULAR SIZE.

Redness & under eye coverage

This product lightens & covers any redness and under eye circles with a soft natural look. Great for use when not wearing make also. I just moisturize and dab it where needed and go!

Good but...

The lighter shades to correct red are excellent. The number 3 shade that is supposed to cover post-procedure bruising doesn't cover, no matter how much I layer on. I wish the lighter shades came in larger, individual containers. Hate to buy the entire thing when I only want one shade.

Heavenly

I love this product, does everything it says it will and more. Subtle coverage when you need it most.

GREAT!

I love running my brush through all of the colors at once and pressing it into my face. The palette works so nicely to diminish any additional sullen colored areas and redness. LOVE!

Great palette!

I use this for after skin treatments. It's a great way to cover up laser. I do find it a bit heavy. I need to work on my blending a bit but I do love the colors it offers.

Covers and Protects

This product not only conceals my imperfections, put it also gives me protection against the sun. I am absolutely happy with the end results of this product.

WOW

Just love this product. All you need to treat all types of skin issues. 5* rating from me.

Reds GONE!

I spot treat with my corrector palette and use the end color for my blush! I am able to use every color.

Disappear

I have little spots all over my face. The combination of colors makes everything disappear without that heavy makeup look.