Even Up® Clinical Pigment Perfector® SPF 50
Brighten, correct and protect your skin with Colorescience® Even Up® Clinical Pigment Perfector® Sunscreen. Lightly tinted and clinically tested to diminish the appearance of discoloration and immediately blur stubborn brown spots, while protecting against future sun damage with SPF 50.
Broad Spectrum SPF 50 Sunscreen
Water resistant (40 minutes)
1 fl. oz. / 30 ml
90-day supply based on typical use

A clinically tested 3-in-1 formula
For blurring brown spots and addressing skin discoloration
Correct
Iron oxide-infused mineral perfector instantly evens skin tone and diffuses the appearance of skin discoloration
Protect
Non-chemical, mineral SPF 50 defends against UVA/UVB damage and environmental stressors
Brighten
Our proprietary LUMIRA® Skin Brightening Complex is clinically tested to address the appearance of brown spots and other skin discoloration
LUMIRA® Skin Brightening Complex
LUMIRA® Skin Brightening Complex is a highly effective, patented formula that is clinically tested to address the appearance of brown spots and other skin discoloration
Vegan: Yes
Paraben-free: Yes
Unscented: No
Active Ingredients:
Titanium Dioxide 11.6%, Zinc Oxide 8.6%
Inactive Ingredients:
Cyclopentasiloxane, Isocetyl Stearoyl Stearate, Dimethicone Crosspolymer, Thermus Thermophillus Ferment, Water/Aqua/Eau, Dimethicone/Vinyl Dimethicone Crosspolymer, Disodium Lauriminodipropionate Tocopheryl Phosphates, Panthenyl Triacetate, Acetyl Rheum Rhaponticum Root Extract, Bidens Pilosa Extract, Elaeis Guineensis (Palm) Oil, Gossypium Herbaceum (Cotton) Seed Oil, Linum Usitatissimum (Linseed) Seed Oil, Tocopherol, Dimethiconol, Citrus Paradisi (Grapefruit) Seed Extract, Glycerin, Dimethicone, Fusanus Spicatus Wood Oil, Vanilla Planifolia Fruit Extract, Ascorbic Acid, Caprylic/Capric Triglyceride, Pentylene Glycol, Triethoxycaprylylsilane, Acrylates/C12-22 Alkyl Methacrylate Copolymer, Phenoxyethanol, Benzoic Acid, Dehydroacetic Acid, Potassium Sorbate, Farnesol, Iron Oxides (CI 77491, CI 77492, CI 77499)
Apply 1/2 pump to a moisturized face ensuring even coverage as the first step in your makeup application and 15 minutes before sun exposure. Reapply after 40 minutes of swimming, sweating, immediately after towel drying, and at least every two hours. Children under 6 months of age, ask a doctor.
Sun Protection Measures: Spending time in the sun increases your risk of skin cancer and early skin aging. To decrease this risk, regularly use a sunscreen with a Broad-Spectrum SPF value of 15 or higher and other sun protection measures including: Limit time in the sun, from 10 am - 2 pm and wear long-sleeved shirts, pants, hats, and sunglasses.
WARNING: For external use only. When using this product, keep out of eyes. Rinse with water to remove. If any adverse reaction occurs, stop using the product. Inform your doctor if your condition persists. Stop use and ask a doctor if rash or irritation occurs. Keep out of reach of children. If swallowed, get medical help or contact a Poison Control Center right away.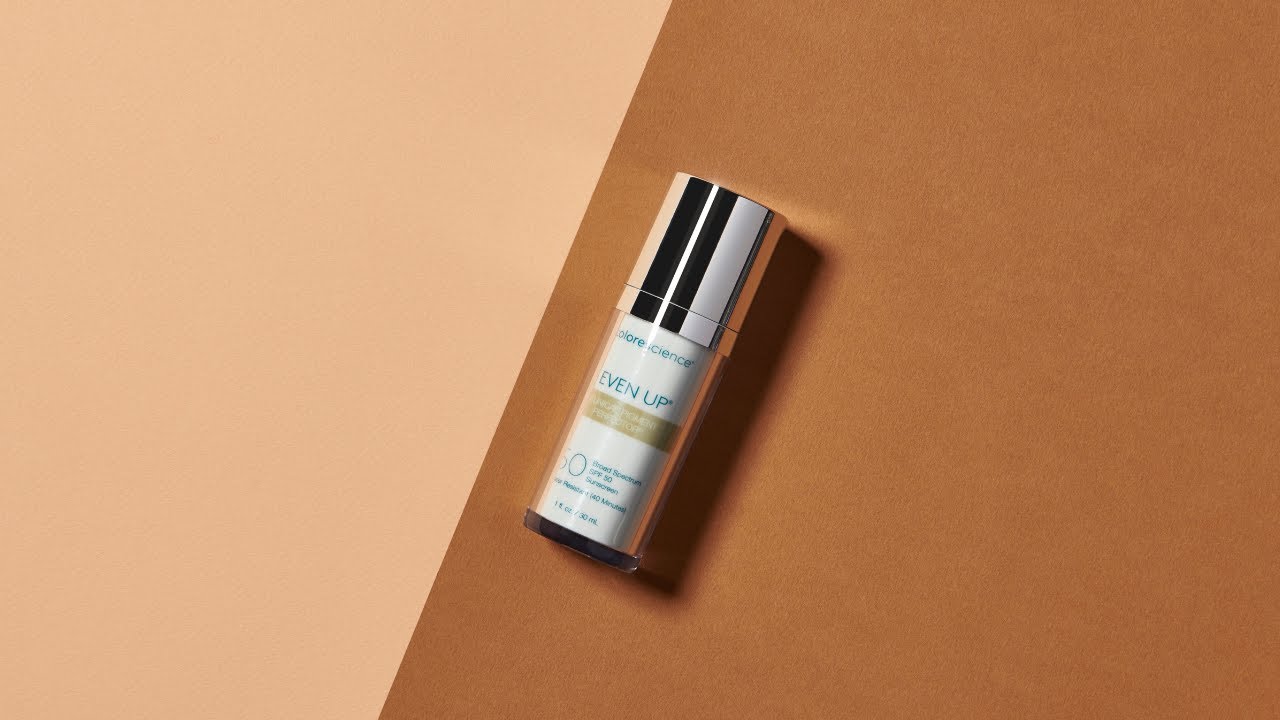 Customer Reviews
Wonderful product

I have been suffering with melasma for many years. I must say that this wonderful product has made a tremendous difference in my skin. At present, I am using the second bottle. I already purchased the third one. Thank you Colorescience!

Solid Product!

This is a really nice corrector as it smoothly blends into my skin evenly without clumping up nor looking too tan. I am of olive complexion and found that at first the corrector seems too light, but after a couple of minutes it blends in nicely, covering up any hyper pigmentation on my cheeks and jawline. I especially love the high SPF and it's worth it since you don't need a lot for it to cover up.

Great product!

This does exactly what it says it'll do...and it's lightweight and goes on very easy. Minimizes my pigment spots so well! If you have melasma or issues with pigment spots on your face, I highly recommend trying Even Up :)

Even Up is the best for SPF 50 protection!

I love Even Up! Its the best protection that you can find. Ahhhmazing! Highly recommend.

fresh

I just have try it in samples and I love the texture and the smell, i will buy the product to see the results and them i will review it again.

Love this product!

I've been using Even Up for around 6 months and adore this sunscreen. I use it every day whether I plan to be outside for a while or not. I often skip foundation as this sunscreen has a tint that makes my skin look clear and naturally healthy. My hyperpigmentation on my cheeks and jawline have lessened significantly since using this product. It is the best!

Love

purchased from my doctor's office and I love it! Really helps with pigment.

Just ok

I have olive skin tone and felt this was a little too pink - It begins to blend in a little and become less pink after a few minutes, but unfortunately just stayed a little too warm for me.

love it

love this as a foundation

Great for hyperpigmentation & SPF 50

Even-up is incredible. It is excellent for coverage and protection on a daily basis. Looks very nice!

Love this stuff!

This product is the best! It warms up to my fair skin tone and evens out facial pigmentation as it says it does. I would highly recommend.

Love it

This really is a great product to help with hyperpigmentation.

Wonderful

I'm 25 and have signs of hyperpigmentation on my cheek bones (from not wearing sunscreen) I've noticed my skin has been brighter. I love it, it's helping prevent more damage. Never stop making this wonderful product.

My go to foundation

Love Even Up. Great texture, covers uneven skin tone and has SPF!

Even Up is incredible!

Even Up is excellent for covering blemishes and hyperpigmentation. It has SPF 50 in it which really covers and protects.

Good protection, but very strong, bothersome smell

I'm very sun sensitive due to a medication, so it's easy to tell of a sunscreen works: this does. The problem is that there is an extremely strong and borderline offensive smell. I've used other recently introduced mineral sunscreens, most have some odor, which dissipates. Unfortunately, and particularly since this product is darned expensive, the bad odor with EvenUp doesn't dissipate, I can still smell it an hour after applying it. Because of the odor, I don't use it sufficiently to see if it actually has other effects. If the odor problem is rectified, I'd e happy to order again.

Great product.

Love this product. Light coverage with sunscreen.

best product

I love using this as my foundation. It give a good amount of coverage and I like that it also has spf and help with my post acne scarring.

This completely changed my skin

I've dealt with acne and scarring for what seems like forever and this not only evened out my skin tone, but also improved my skin the more I used it.

My Favorite!

Goes on silky smooth. I feel so confident leaving the house with only this on no need for foundation! Love love love.

Love this product!

I was hesitant at first because I thought it did not have enough coverage to use as a foundation but I was wrong. It took me just a couple days to get used to it and when I say my skin feels and looks better than it has in the last 10 years I am not kidding. Great product!

BEST

Love this for my melasma and pigment! Super smooth and silky and gives a nice hint of color and glow.

Love!!!

Evens my skin tone. Feels great!!!

It does what the name says

This is a great product that helps me color up my imperfections! I enjoy the coverage without the breaking out and it works great alone or with my foundation.

Even, light coverage

This is perfect for me. I don't use make up normally and this gives both spf protection and a nice coverage.

Even Up

Even up works amazingly well
It hides all my imperfections due to sun damage. It also makes my face smooth!

Instead of Makeup

I saw a review concerning using this as a foundation, so I decided to try it. I agree with the review. It works great on days that I don't want to put my full makeup on. Makes my face feel so soft and gives just the right amount of coverage.

Even Up Works

This product does exactly what it says. It looked great & evenly toned immediately. In time, your skin is brighter and more evenly toned with consistent use.

Even Up

This product is amazing! It makes my skin tone look beautiful.

Love this product

I will not leave the house without this on! Love the coverage and how it evens out all the imperfections! You can wear this alone or with a mineral foundation

Evens my tone

Another great addition to my daily routine. Just a dab goes a long way. It evens my skin out and protects my skin. It also does not run off when I am working out.

Great Product

Evens my skin tone AND is my initial SPF protection in the mornings! :)

The best!

I think this has been one of the best finds in 2019. I'm loving this product for so many reasons. Skins looks awesome, protection, and make-up staying on all day!

What a great product!

Not only protects your skin, but gives a polished glow while wearing!

J'adore

As I have aged I am noticing more pigmentation in my skin. As a result, I have been using a concealer and foundation. Not any more. I purchased the Even Up and am hooked! Now I only need to use this product alone. I got my sister hooked too!

Evens Out Skin

This product is great. I love the extra coverage it offers and the creamy feel of it on my face. I would recommend for everyone with redness on areas of their face.

LOVE

I love my Even Up. It truly does corrects, protects, and brightens.

A must have product!

A little goes a long way for a flawless complexion!! I get so many compliments on my skin when I'm wearing this!

Doesn't break my skin out.

I have cystic rosacea and have to be careful using make up. Even Up works like a foundation for my skin with many benefits. My skin looks clearer and I like the fact that it has sunscreen built in. This is my second bottle and I ordered another one.

GREAT PRODUCT

I have melasma/hyperpigmentation on my cheeks and around my outer eyes, Even Up is great for those area before I apply my foundation. Just finished my first bottle that I got this summer and now just ordered 2 more with 30% off. Loving it :)

The Best

On my second bottle, this is amazing. My uneven skin tone is gone! Easy to use and replaces several makeup steps.

Love this product

I love the lightness of this product. It gives nice coverage and makes my skin look flawless.

The BEST ever!!

This product is a must. It smoothes the skin and takes out imperfections. I can wear with or without foundation. It smells great and goes on oh so creamy!

Loved my samples!

I haven't bought it yet but definitely it is on my list of products to buy. I have used some samples and it has a really great texture, the smell is amazing and it makes your skin softer, looking flawless. On blog says it works great to regenerate collagen and elasticity.

LOVE LOVE LOVE

This has been the best product! Light and airy, great coverage and I do not have to wear foundation anymore. I just put this on after the shower and it gives me great coverage all day. Never feels heavy or greasy. My dr suggested something else and it was triple the price. You can't beat this product for the quality and price!

Took a little trial & error, but...

I think I must have used too much in a single application and did not like the weird texture & look. But after some experimentation, I find that I really like the finish! It really does even out my skin texture and color - and somehow helps my skin look fairly perfect!

Works Wonders!!

I tried a sample of this product and I have to say this did wonders to my complexion by evening out my skin tone. Even up blurred out and hid all my hyperpigmentation. I love this product!

Excellent

Great for canceling brown spots and uneven patches. It works well, lasts long, and added bonus, SPF!

Splurging because the product works

I received this is as a sample and after a few days of using it, I will be purchasing the product. I have melasma and so far it really seems to brighten my skin.

Great for everyday!

This was a perfect solution to not wearing foundation daily. It evens my skin and provides SPF as well. Feels great too!

Great Texture

My skin has more issues with reds than browns, so I typically used All Calm. However I don't love the texture or color of the All Calm alone, so I partnered it with Even Up. I think Even Up has a smoother, silkier texture and a more complimentary tone. I dab the All Calm into my face, then add Even Up and blend evenly. I'm very fair and it's maybe slightly dark for me, but definitely wearable and gives me a natural coverage.

Great coverup

Even Up is a great concealer of brown spots, and good primer!

Even Skin Tone

This product helps to make my blotchy skin look more even. I really like how smoothly it applies.

Evenup is the best sunscreen!

Evenup is creamy, moisturizing and feels delicious on your skin. It covers imperfections and helps heal the skin from melasma and rosacea.

Solid Product

Overall, this is a great product. It conceals very well, and totally replaces the need for a foundation. That said, if you don't like shine, it may not be for you. The color can also be a bit dark and because it gets shiny, it can appear darker as the day goes on.

Can't live without Even Up

I can really tell the difference in my complexion with this product - It does cover imperfections, I use it everyday!

Best foundation I've ever had!

A little goes a long way for a naturally healthy look.

Great product!

This product is a great everyday moderate coverage foundation for those with uneven skin-tone! Over time the product actually improves skin appearance! It's pricey but well worth it!

Excellent product, just wish there were different shades

I love this product - feels great on my skin and I love the finish. It is slightly darker than my skin tone, so would love to see this offered in different shades.

Great product!

I was recommended to try this product after visiting my medspa. I love that it's lightweight and doubles as my foundation because the color matches so well. It goes on smoothly and doesn't feel heavy on your face. Would definitely recommend to anyone wanting to get more bang for your buck with less products!!

Love my Even Up!

I love how this product. This product gives you a natural finish and I use it everyday. I highly recommend it.

all in one

Protection, correction and coverage. what more could I want? The color can be intimidating at first but trust the product. it warms up, cools down to your skin tone. press and roll technique is when you get flawless application. Blend with a wet beauty blender and finish with the Sunforgettable brush for a nice finish. This has become my go-to for coverage that is better for me.

Flawless

Hard to believe that this is actually good for your skin because my clients look totally flawless with nothing but EVEN UP! I love that I can recommend this and be confident that their skin is protected and corrected daily!

A little heavy...

Not sure if my skin has got dryer over the years but it seems to go on heavy for me and feels too thick on my skin. Sometimes it has a weird smell too. I have used it in years past and loved it but maybe as my skin has aged it isn't working the same for me.

Great Product

I cant say enough about Even Up! It's like "chicken soup" for your skin. The product is very light and brightens my face! I can tell a difference in the appearance of my spots AND its protecting my skin from future damage! Its awesome!

Even Up SPF

This product fits my needs perfectly. I don't like a lot of heavy makeup and Even Up gives me enough coverage for the day. It is simple, fast and looks great.

Confident I'm Covered

I am glad my friend told me about this product! Knowing I'm getting protection and applying a product that is good for my skin gives me peace of mind.

Love it!

I use this everyday in place of a foundation. I feel like I'm wearing nothing and it looks great!

Even Up is my fav face product

With this product I can use just this and mascara and not need anything else! Perfect for on the go moms that spend a lot of time in the sun!

Nice Coverage

I have been using Even Up for a few years and I really love this product.

Great Product!

I received a sample of this product and I was not expecting to love it but I do. I love the texture which seems heavy at first but feels weightless as soon as it sets in!

Magic Eraser

I LOVE this product. It works like a magic eraser to cover my hideous brown sun spots on my face. It is definitely worth every penny!! I will continue to purchase.

Love it

I mix a bit of Even Up with a bit of the Tint De Soil Whipped for a nice combination. I love the fact that I get a nice look with ultimate protection.

Even Up

I love this product! I've been using it for over 1 year. It makes my skin look so beautiful and bright. It protects my skin as well. I don't like foundation and I don't wear makeup on my face but this feels lovely and looks lovely. I also love the Total Eye 3-in-1 under eye SPF! Great products. I am a cosmetic NP, I tell all my patients about these products.

Great Coverup!

This is not only a SPF product but it is good for your skin and offers tremendous cover up. As I am 51 with some sun damage, it is a great product that offers a natural cover up to my face. However, the only downside is it is a little on the expensive side so I can't buy it as much as I would like.

Evens out face

My dermatologist suggested using the Even Up and I love it! Even Up does as it states, evens out the skin color from all the blotches from years of sun damage. It is light weight on the face.

Excellent

Even up provides great coverage and gives a flawless finish....I love it so much! It goes well with my brush on sunscreen.

Even up SPF

Great coverage and tint

Great suncreen and make-up in one!

My dermatologist recommended this product to me. I am 50 and have some darker areas from sun exposure that I can't seem to get rid of and this product has been a life saver. Not only does it serve as a SPF but it also has a nice smooth, creamy coverage that serves as a concealer. It covers up my uneven skin tone and looks really natural.

Great product! Very pricey:(

Love the product itself, but the amount you receive for the price is not optimal.

LOVE IT

Blends in perfectly on my skin. Goes well with the Sunforgettable brush on

Feels Great!

I really like that this looks so natural and it feels really good on your skin!

Great

I love this product! Doesn't leave my face feeling dry either (a big concern of mine).

The skin I have waited my entire life for!

I use Even Up and Brush-On Shield and have no need for foundation. I'm in my 40's and get compliments daily on my skin. I suffered through acne as a teen, college student, and adult. I've spent tons on make up and skin treatments and none of them worked until I found Colorescience. These products will change your life.

Wish I didn't love this...

I have no idea why this stuff is so expensive, yet here I am buying it again. This is an amazing product. It completely covers my imperfections, looks natural and protects me from new sun damage. Obviously, it's worth the money, but I wish i knew if there was an expensive ingredient, or if they are just charging a high price for a remarkable product.

What Sun Spots?

I love how my sun spots disappear after I apply this magical product. A must have in my makeup routine.

Dark Patch Concealer

I have a lot of dark patches and spots on my face. Nothing makes them go away, so I try to stop them from getting any worse. Even up covers them instantly while protecting my skin from the sun. I am so glad that I have a solution for my dark patches.

Best product of all time!!!

I am OBSSESSED with this product! I wear it every day (does NOT cause acne and does NOT clog my pores) and have gotten countless compliments on my skin because of how luminous it makes my skin look. What I appreciate most about this product is that it not only covers my melasma but it helps to prevent it. This is a MUST HAVE tool if you have pigmentation troubles.

Mainstay of my morning routine.

Colorescience products are the mainstay of my morning routine and it starts with this product. The color is a little off for me so I mix it with colorescience bronzer/primer.

Coverage

This product helps to blur out the unwanted spots

My favorite

Love this product, it helps to cover my uneven skin tone while protecting my skin from more sun damage

Even Up

I do like even up. I got a sample from my dermatologist and m ready to buy it for myself.

Even Up Clinical Pigment Perfector SPF 50

Immediately Even up covers discoloration while treating and protecting skin. Long term, the discoloration is gone!

Nice product

This is a nice product to use when I'm giving my skin a break from hydro quinine. I use it as a primer daily. Why on four stars? I wish it came in different shades. I darken it with Colorscience bronzer.

Best thing ever

I love this! I don't need anything else. It covers all the imperfections and make my skin looks amazing!!

Very Natural finish

Love this product. I use it every day for a flawless finish or just for a sunblock.

I love Even up!

Even up has the greatest coverage and really helps minimize dark spots on the face. It has coverage and sun protection together!

Even me up!

This gem is great for those with hard to cover red spots. Magic!

Discoloration disappeared!

I first discovered EvenUp at my dermatologist's office, when I was concerned about a small spot of discoloration on my cheek. I decided to try EvenUp instead of more invasive treatments, and I've been so thrilled with the results! While the coverage is a bit less than I initially anticipated, it gives your face a flawless appearance and can be worn alone or under makeup. This product delivers on its promises!!