All Calm® Clinical Redness Corrector SPF 50
This 3-in-1 proprietary formula instantly neutralizes the appearance of redness, helps soothe and calm sensitive skin, and provides SPF 50 protection while its patent pending BioSolace™ complex helps provide ongoing relief from sensitivity and the appearance of redness.
Sold Out
Get notified when this product is back in stock.
Broad Spectrum (UVA/UVB) Sunscreen
UVA protection rating:
UVB protection rating:
1 fl. oz. / 30 mL
Non-comedogenic
90-day supply based on typical use
A CLINICALLY TESTED 3-IN-1 FORMULA
For neutralizing redness and soothing sensitive skin
CORRECT
Subtle green undertones to neutralize and balance redness
PROTECT
Non-chemical, mineral SPF 50 UVA/UVB defense against #1 trigger of redness and rosacea
ADDRESS
BioSolace™ complex helps soothe and calm skin, providing ongoing relief from sensitivity and the appearance of redness
It's such a great feeling to see a smiling rosacea patient after they have tried All Calm™ for the first time. It neutralizes redness and acts as a moisturizing color corrector and sunscreen all in one.
Dr. Sharri Topper, Board Certified Dermatologist Derm Partners of Boca Raton
How to Use
AWARDED
BEST DAY CREAM FOR SENSITIVE SKIN
"When your skin needs to chill out, give it a calming dose of this lightly tinted formula, which contains green undertones to neutralize redness and mineral sunscreen to help prevent further inflammation."
- O, The Oprah Magazine's
Fall Beauty O-Wards
EVERYTHING YOUR SKIN NEEDS, NOTHING IT DOESN'T.
All Calm® Clinical Redness Corrector SPF 50 is powered by BioSolace™, a proprietary blend of specialty ingredients that helps provide ongoing relief from sensitivity and the appearance of redness.
Also known as vitamin B3, this ingredient is well-known for helping soothe skin, aid the skin barrier, reduce the appearance of redness/blotchiness, balance sebum production and improve the appearance of skin imperfections.
A powerful combination of ginger extract and (nature-identical) bisabolol helps shield skin's natural defenses from daily aggressions and cools and soothes sensitive skin. *SymRelief® is a registered trademark of SYMRISE AG, Germany
This bio-available form of vitamin E provides antioxidant support while helping to soothe redness related to environmental and mechanical factors; shown to help calm skin both prior to and following UV exposure. *Vital ET™ is a trademark of Ashland Global Holdings, Inc.
Based on Magnolia bark extract, this ingredient helps reduce the appearance of skin redness and hydrates for visibly firmer skin. *MAXnolia is a trademark of Mibelle Biochemistry
A derivative of baker's yeast ß-glucan, this ingredient helps calm sensitive and red skin while helping to reduce dryness and enhance the skin barrier. *CM-Glucan Forte is a trademark of Mibelle Biochemistry
A marine plant extract from sea fennel with unique survival capabilities that helps restore water balance and improve the appearance of skin radiance and smoothness. *Native Essence™ is a registered trademark of SEPPIC
LEARN MORE
All Calm® Clinical Redness Corrector SPF 50 corrects and soothes redness symptoms while providing UVA/UVB broad spectrum protection.
+ Neutral shade infused with a green undertone neutralizes redness instantly to re-balance skin color.
+ Chemical-free SPF 50 sunscreen utilizes minerals for UVA/UVB broad spectrum protection.
+ Helps soothe and calm irritated skin; providing ongoing relief from redness and other symptoms related to sensitive skin.
1. Dispense 1/2 pump onto your fingertips and rub between your fingers to activate the minerals.
2. Apply liberally to a lightly moisturized face, ensuring even coverage as the first step in your makeup application.
3. Follow with your favorite Colorescience foundation and enhancers.
4. Use Total Protection Brush-On Shield SPF 50 for reapplication every two hours for complete protection.
Vegan: Yes
Paraben-free: Yes
Unscented: Yes
Active Ingredients:
Titanium Dioxide 11.6%; Zinc Oxide 8.6%
Inactive Ingredients:
Cyclopentasiloxane, Caprylic/Capric Triglyceride, Water/Aqua/Eau, Dimethicone Crosspolymer, Niacinamide, Disteardimonium Hectorite, Dimethicone/Vinyl Dimethicone Crosspolymer, Propylene Carbonate, Disodium Lauriminodipropionate Tocopheryl Phosphates, Crithmum Maritimum Extract, Magnolia Officinalis Bark Extract, Zingiber Officinale (Ginger) Root Extract, Magnesium Carboxymethyl Beta-Glucan, Jojoba Esters, Bisabolol, Silica, Polyhydroxystearic Acid, Dimethiconol, Alumina, Glyceryl Behenate/Eicosadioate, Phenoxyethanol, Triethoxycaprylylsilane, Ethylhexylglycerin, Tocopherol, Dehydroacetic Acid, Benzoic Acid, Glycolic Acid, Chloroacetic Acid, Chromium Oxide Greens (CI 77288), Iron Oxides (CI 77491, CI 77492, CI 77499)
2017 O, The Oprah Magazine Fall Beauty O-Ward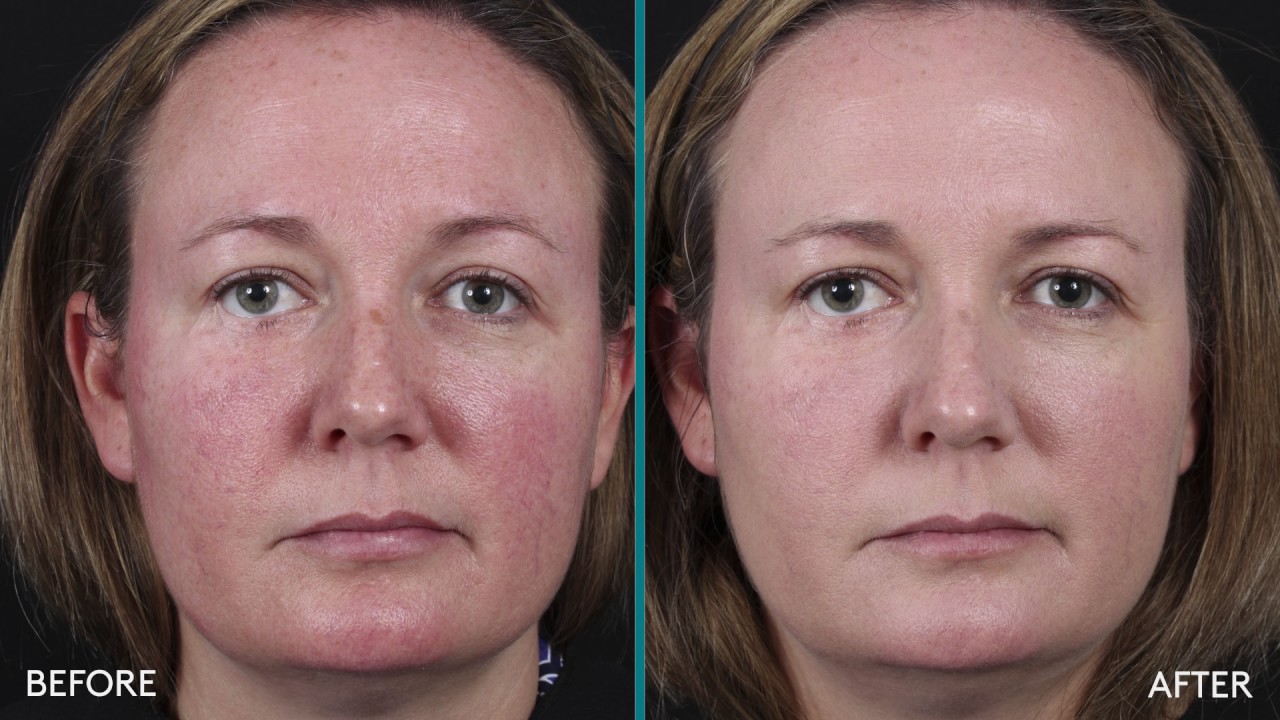 FAQs
Apply All Calm™ once a day as the last step in your skin care regimen and just before foundation. Apply Sunforgettable® Brush-on Sunscreen SPF 50 every two hours for continued coverage and optimal results.
Yes, All Calm™ can be used on eyelids, and anywhere redness appears. However, avoid getting the product in your eyes.
Apply 1/2 pump of All Calm™, spreading evenly over the entire face for full SPF 50 coverage.
You do not need to use a separate primer when using All Calm™ as it is formulated to correct redness and even the skin in preparation for makeup application.
To prevent All Calm™ from feeling thick or "cakey" at the end of the day, ensure your skin is lightly moisturized prior to applying All Calm™. This will allow for more even application
All Calm™ is not water or sweat proof. Use a water-resistant sunscreen if swimming or sweating.
Follow your dermatologist or skin care specialist's instructions for using All Calm™ with other topical treatments they recommend. In general, All Calm™ is formulated to be complementary to prescription or other topical treatments.
All Calm™ was designed to be one shade that universally neutralizes red tones in skin. It is a corrective product that should be used based on skin concern (acne and rosacea) as a primer, rather than matching the skin color.
Formalized testing of a mix of Even Up® and All Calm™ has not been conducted. By using these products together, the color correction benefit would be largely compromised as the tints in each cancel each other out. The resulting mix would not provide the same correction as when used individually.
Although both products provide color correction, All Calm™ has subtle green undertones that instantly neutralize and balance redness. All Calm™ is formulated with the powerful BioSolace™ complex that provides ongoing relief from sensitivity and the appearance of redness. Lastly All Calm™ contains a higher level of broad spectrum UVA/UVB protection (SPF 50 vs SPF 20).
These products are formulated to treat two different skin concerns and therefore contain different set of ingredients that target either hyperpigmentation or redness. In addition, All Calm™ has subtle green undertones vs. Even Up® has slightly peachy color. Even UP® is a fully anhydrous (contains no water) formula while All Calm™ is near anhydrous. From a texture perspective, All Calm™ is slightly lighter weight.
The green tint is from chromium oxide. This green tint neutralizes redness.
Yes, All Calm™ is non-comedogenic. As with all Colorescience® products, All Calm™ is formulated without dyes, talc, synthetic fragrance, mineral oil, drying alcohols, and harsh chemicals.
All Colorescience products are formulated without the addition of gluten or its derivatives. In addition, our products are 100% free from parabens, phthalates, synthetic fragrance, animal testing, talc, dyes, mineral oils, drying alcohols & chemical sunscreen. Those who have gluten allergies may experience sensitivity when using topical products.
Yes, All Calm™ has been formulated without parabens. As with all Colorescience® products, All Calm™ is formulated without dyes, talc, synthetic fragrance, mineral oil, drying alcohols, and harsh chemicals.
Yes, All Calm™ is oil free. As with all Colorescience® products, All Calm™ is formulated without dyes, talc, synthetic fragrance, mineral oil, drying alcohols, and harsh chemicals.
Yes, this product is sold in the EU and meets EU requirements for sunscreens.
Colorescience strives to provide outstanding products that are efficacious while also safe for our consumers. For individuals with allergy concerns or women who are pregnant, lactating or planning to become pregnant, it is always best to check with your physician to advise on a list of what products/ingredients should be avoided and then cross-reference to our ingredient lists on our website. We always recommend double checking with your physician to make sure there is nothing you have any heightened sensitivities to while pregnant.
Reviews Acceptance Policy
YOUR OPINION IS IMPORTANT TO US AND TO COLORESCIENCE USERS.
We want customers to get the information they need to make smart buying choices, and we'd love to have your help doing that. As a Colorescience customer, you can submit written reviews. We encourage you to share your opinions, both favorable and unfavorable.
We do not remove reviews because they are critical. However, we do ask that you follow our reviews guidelines below. Reviews not meeting these guidelines may not be approved.
WE MAY EDIT YOUR REVIEW
We may edit reviews for spelling, grammar, or content, while doing our best to maintain the intent of the author. Our content edits are intended to remove claims that may be barred under federal regulations and to clarify inaccuracies (for example, mentioning an incorrect ingredient). We will not change the star rating on reviews.
WHAT'S NOT ALLOWED
While we appreciate your time and comments, we limit customer participation to one review per product and reserve the right to remove reviews that include any of the following:
Reviews by customers who have not purchased from Colorescience.com and/or who have not used the product.
Feedback about the safety of ingredients. (We only use ingredients that we believe to be safe.)
Content that is excessively unclear or obviously inaccurate.
Obscene or distasteful content
Profanity or spiteful remarks
Feedback on your ordering/shipment experience. (Your review should be focused on the product itself.)
Details about availability or alternative ordering and shipping information
If you have safety concerns about the product you are reviewing please discontinue use, talk to your physician, and contact us directly. Make sure to include all information about the details of your use of the product.
If you have a questions or concerns about this reviews policy, please contact us.