Clarifying Setting Mist
Formulated to brighten skin and help control oil and shine, Clarifying Setting Mist soothes the appearance of redness while balancing oiliness and giving blemish-prone skin an antioxidant boost.
Targets normal to oily, blemish-prone or unbalanced skin
Soothes the appearance of redness
Activates vibrancy and luminosity in our makeup
Keeps makeup in place all day
Willow Bark Extract: Natural form of salicylic acid
Pomegranate Extract: Boosts suppleness & clarity
Licorice Root Extract: Helps to brighten skin
Shake well. Hold six to nine inches away from your face and spritz lightly in circular motions, keeping your eyes closed.
Use as often as desired.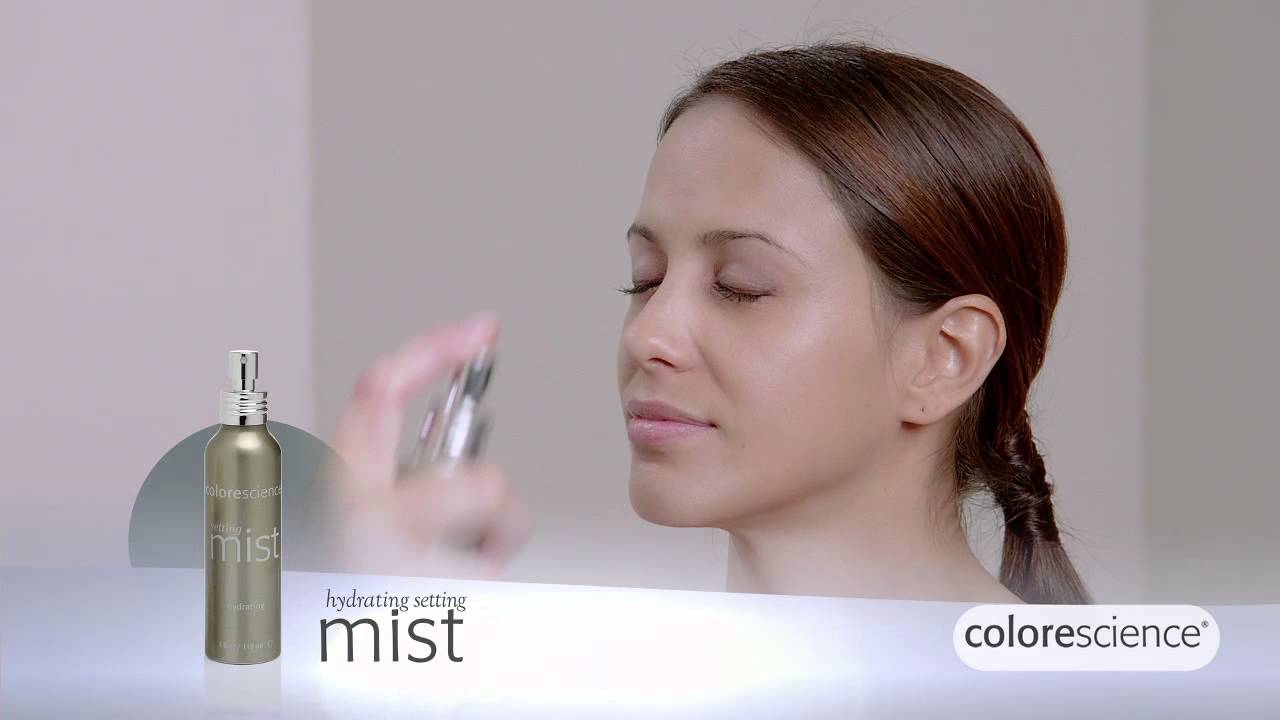 Customer Reviews
Great product

This spray works well and sets makeup on oily skin.

Extremely Calming to My Acne

I struggle with hormonal acne. And as with ALL colorscience products I have found that this product is extremely calming and soothing to my acne. I use it both in the morning to help set my makeup for the day but I also use it at night after washing and applying all my night creams. I find that using it at night it helps lock in some moisture as well as calm and soothe my acne!

Amazing hyper-allergenic mister

I have sensitivity to Vitamin E. No problem with this mister and I use it throughout the day to give my skin a drink of water!

Lisa

Love to finish with this mist!!!!

REFRESHING!

I love this mist with or without makeup. It sets my makeup well and if my skin is bare, it gives it that extra touch of moisture.

VERY GOOD

I got this for my daughter and she loves it! Goes on light and her makeup lasts all day.

Calming and refreshing mist

The refreshing mist calms right away my sensitive skin and prevent oil skin to shine. Love the scent !

Tough scent

I was not a fan of the scent...however it is very nice for refreshing my skin throughout the day! I get oily and this really takes it down! I've boughten this more than once and will keep doing so!

Great for skin

I have oily skin and this keeps it oil free and fresh all day long!

Mikayla

I Love using this as a setting spray

5 DIAMOND PRODUCT

This product controls oil, keeps makeup on, tightens pores, controls shine, and decreases the amount of times you have to look in the mirror and see a face full of oil. Love Love this mist. I've never used a mist before, and I'm SOLD on this product and the Colorscience pressed powder.

Love the mist!!

I love to finish off my makeup with this mist to keep any potential breakouts at bay!! Helps keep my ruddy complexion under control.

Wow!

I couldn't be happier with my Clarifying Mist! Coming from someone who is constantly battling oily/combination skin by the end of the day, I have finally found something that keeps my makeup in place and fresh until the end of the work day !!

The Scent Is Temporary

Yes, the scent is not pleasant; however, it immediately goes away after you spray your face. I love how my makeup stays in place walking to and from work in the summer heat. Keep selling it, please!

amy

I have super oily skin and have tried about every product on the market. My foundation will look great right after application for about 2 hours-then comes the oily shine. ugh-I started using Colorescience about 2 years ago and I absolutely love it! I use the pressed mineral foundation, the primer and the setting mist. This is absolutely the best combination for my oily skin. I keep a small bottle of the setting mist in my purse and will use once throughout the day to control the oil...love love it!

If smell isn't an issue...

The smell is absolutely horrid! That's all I can say! Any benefit is lost on me because it smells worse than the the most awful old lady perfume!

Love it (- the scent!)

Does not have the best scent! However, this is one of my "can't leave the house without applying it" products! The very best setting spray ever! Perfect!

I won't go without this

I tried to use the primer and mineral foundation without the mist for a few months. I won't go without it again. It "sets" the mineral foundation and makes my skin glow. It stays longer and honestly looks as though I don't have makeup on. It smells amazing and it's refreshing to use.

The Best Ever!

I absolutely LOVE this product! It is now a daily necessity!

Great

I initially purchased this for my oily skin and I love it. Very refreshing! Smells amazing!

Misting

My only problem with this product is that I forget to use it! I need to get into the habit of finishing off with it because it's lovely. It's very light and refreshing and the fragrance disappears quickly. My makeup is set perfectly.

Mist

I enjoy your product

So refreshing!

I have never used a setting mist and I am so glad I do now. It does make a difference! The only reason I didn't give it 5 stars is because of the fragrance. It is a bit strong, but I have become more sensitive to that stuff over time. If I just hold my breath, I'm fine. It is a must for your makeup look!